I am basically Vata Pitta constitution. What you mentioned in vata diet, if I take that my pitta will go out of balance and what you have mentioned in pitta, if I take, cucumber, rose which is cool in nature according to qualities you have explained previously my Vata Dosha will go to imbalance state. So can you explain regarding the combination of Doshas, their effect and solutions? A reader asks. Let us find out answers.
While studying qualities of Tridosha, we learnt that Vata has lightness, coldness, dryness, roughness, minuteness and movement qualities.
Pitta has lightness, hotness, slight oiliness, piercing, smell, movement (fluidity) and liquid qualities.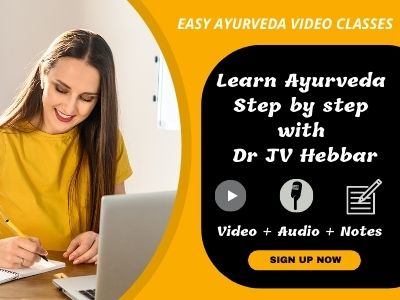 When Vata and Pitta Dosha are imbalanced in a person, then the condition is quite difficult to treat, because, if we give cold treatment, then Vata will go up and if we give hot treatment, Pitta Dosha will go up.
How to solve this problem?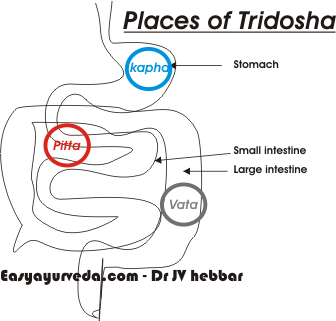 Panchakarma based on site of Doshas
Vata is situated in large intestines and Pitta is situated in small intestines. Hence, if Virechana (purgation) treatment is administered, it helps to eliminate Doshas from both small and large intestines. This is the right approach, if Pitta is more dominant than Vata Dosha.
If Vata is more dominant than Pitta Dosha, then Basti enema) treatment will help in bringing both the Doshas to balance.
Type of food
Avoid light to digest items
As we have seen above, lightness is both the qualities of Vata and Pitta. Hence, this quality needs to be avoided and relatively Guru (heavy) foods, medicines and treatments need consideration.
Tastes and Doshas
Vata increases by the use of Pungent, bitter and astringent tastes.
Pitta increases by the use of Sour, Salt and Pungent tastes.
Hence, in Vata-Pitta imbalance, pungent taste (spicy foods) should be avoided.
Sweet taste balances both Vata and Pitta.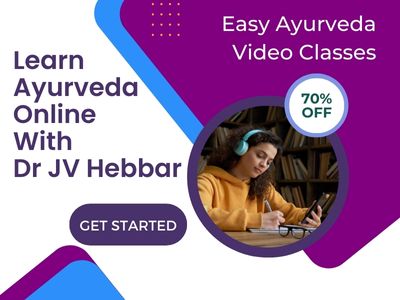 Seasonal regimen recommendation
Pitta is compared to fire and Vata is compared to air / wind. When both the fire and wind are increased, the wind accelerates the effect of fire. Hence coolant treatment needs to be given (though Vata has coolant quality).
For this, general summer regimen, (wherein body cooling is stressed, should be followed)
Summer regimen –
Food which are sweet, light (easy to digest), fatty, cold and liquid should be taken.
Take cornflour mixed with cold water and sugar / jaggery.
Take cold water bath.
Avoid alcohol or take in very low quantities. It will cause inflammatory conditions, it will make the body fragile and weak, increases burning sensation and causes delusion.
Take boiled rice, which is white in colour,
Meat of animals from desert region is recommended.
Not very thick meat soup is advised.
Rasala – curds churned and mixed with pepper powder and sugar is good to take.
Panaka panchasara, (syrup prepared with raisins (draksha), madhuka (Madhuca longifolia), dates (karjura), kashmarya, and parushaka fruits all in equal quantities, cooled and added with powder of cinnamon leaves, cinnamon and cardamom etc) and kept inside a fresh mud pot, along with leaves of plantain and coconut trees, and fermented should be drunk in mugs of mud or shell;
Cool water kept in mud pot along with flowers of patala and camphor should be used for drinking.
Buffalo milk mixed with sugar and cooled by moonlight and the stars should be used for drinking.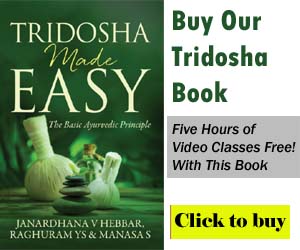 Read more about all seasonal regimens
Milk mango recipe video
Medicines and herbs
Other medicines and herbs that balance both Vata and Pitta Doshas –
Pineapple
Amla Murabba – a sweet recipe of Amla fruit
Coconut milk
Ripe and sweet Jungi Aam – Amrataka – Wild Mango (Hog Plum) – Spondias pinnata
Lauki – Bottlegourd – Ikshvaku (Katutumbi)
Ripe Kapittha – Elephant apple fruit
Giloy Satva – water extract of Tinospora cordifolia
Milk and ghee, of any animal, are good to balance Vata and Pitta.
Sweet lemon, Wheat, winter melon, raisins balance both Vata and Pitta.
Padmaka (Prunus puddum), Pundra (lotus variety), Vriddhi, Tuga (Bambusa bambos), Riddhi (Habenaria intermedia), Shringi (Pistacia integerrima), Amrita (Giloy), yashtimadhu (Glycyrrhiza glabra)
Sweet grapes
Madhuka – Madhuca indica
Priyala – Buchanania lanzan,
Parushaka – Falsa fruit – Grewia asiatica,
Rasanjana – Berberis aristata,
Ashoka – Saraca indica,
Shatavari – Asparagus racemosus,
Tanduleeyaka – Amaranthus spinosus L.
Sharkara – sugar
Vidari – Pueraria tuberosa
Palasha (Butea monosperma)
Chakramarda – Cassia tora
Gambhari – Gmelina arborea
Atibala – Abutilon indicum
Banapsa – Sweet violet – Viola odorata
Marshmallow – Althaea officinalis
Gudasharkara – Grewia hirsuta
Common Rue – Ruta graveolens
Ber fruit – Indian jujube – sweet variety
Raw mango cake:
Ripe mango fruits are squeezed to extract juice. The thick juice is spread over a cloth sheet, sun dried. When it dries up, repeated layers of juice is spread and a thick layered mango cake is prepared. This balances Vata and Pitta Dosha.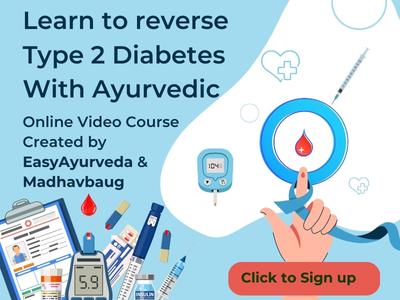 Foods to avoid
Avoid these – which cause Vata Pitta imbalance:
Nishpava – A variety of cowpea
Unripe Kapittha – Elephant apple fruit
Unripe Jangli Aam – Wild Mango (Hog Plum) – Spondias pinnata
Ayurvedic medicines
Ayurvedic Medicines useful in Vata Pitta imbalance:
Drakshasava, Drakshadi kashayam
So, though it is slightly difficult to treat when Vata and Pitta are increased together, there are effective treatment options.
Pittavrita Vata treatment
Treatment of Pittavruta Vata – Vata Occluded by Pitta:
पित्तावृते विशेषेण शीतामुष्णां तथा क्रियाम्|
व्यत्यासात् कारयेत् सर्पि र्जीवनीयं च शस्यते||१८४||
धन्व मांसं यवाः शालिर्यापनाः क्षीर बस्तयः|
विरेकः क्षीरपानं च पञ्च मूली बला शृतम्||१८५||
मधुयष्टि बला तैल घृत क्षीरैश्च सेचनम्|
पञ्चमूल कषायेण कुर्याद्वा शीतवारिणा||१८६||
pittāvṛte viśeṣeṇa śītāmuṣṇāṃ tathā kriyām|
vyatyāsāt kārayet sarpi rjīvanīyaṃ ca śasyate||184||
dhanva māṃsaṃ yavāḥ śāliryāpanāḥ kṣīra bastayaḥ|
virekaḥ kṣīrapānaṃ ca pañca mūlī balā śṛtam||185||
madhuyaṣṭi balā taila ghṛta kṣīraiśca secanam|
pañcamūla kaṣāyeṇa kuryādvā śītavāriṇā||186|| – Charaka Chikitsa Sthana 28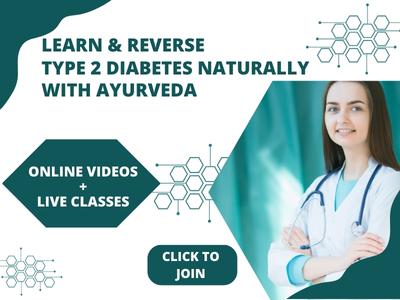 If the ailment is caused by the aggravated Vayu occluded by Pitta, then the patient is specially given cooling and heating therapies alternatively administration of Jeevaniya Ghrita (ghee cooked by adding Jeevaniya group of herbs).
The patient is given the meat of animals inhabiting arid land, barley and Sali type of rice as food. He is given Yapana Basti, Kshira Basti (2 types of medicated enema to be described later- vide Siddhi 12: 16), purgation therapy and milk boiled by adding Pancha Mula as well as Bala – Country mallow (root) – Sida cordifolia to drink.
His body is sprinkled with the oil, ghee or milk boiled by adding the decoction of Yasti Madhu, Bala – Country mallow (root) – Sida cordifolia or Pancha Mula, or by simple cold water.