Gambhari is one among Dashamoola groups of herbs (group of ten roots). Its botanical name is Gmelina arborea. Its fruits bear nourishing qualities, brain tonic while the root is anti-inflammatory (reduces pain, swelling, etc). Family- VERBENACEAE, Nirgundi Kula
Vernacular names
Hindi name- Gambhara
English name – beech wood, gmelina, Goomar teak, Kashmir tree, Malay Beechwood, White teak, Yemane
Telugu Name- Peggumudu
Tamil Name- Umi-thekku
Bengali Name- gamar
Punjabi Name- Gambhari
Marathi Name- Shivana,
Gujarati Name-Savan
Tamil Name- Gumadi
Malayalam- kumbil, kumbulu, kumilu, kumiska, pokki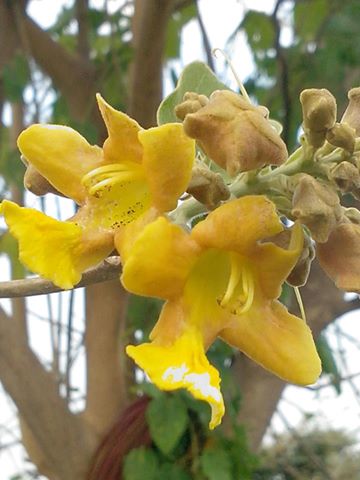 Categorization, distribution
Charaka-
Shothahara – group of herbs to relieve inflammation
Dahaprasahmana – group of herbs to relieve burning sensation
Virechanopaga – group of herbs useful in Virechana
Sushruta- Sarivadi, Brihat Panchamula
Vagbhata- Sarivadi
Bh.P – Guduchyadi varga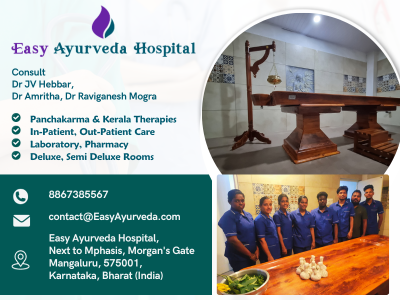 Distribution- Found throughout Deccan Peninsula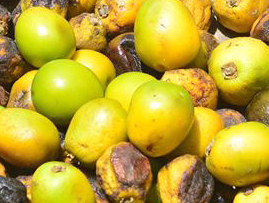 Chemical constituents
Gmelina arborea – Major chemical Constituents
B-Sitosterol, ceryl alcohol, Gmelinol, Butyric, &Tartaric Acids;Apigenin, premnazole, Arborone, Ardorel, Isoarborel, cutytyl ferulate, epiedudesmin, gemelanore, gmelauran, gummadiol, B-sitosterol, non-saponifiable fraction, saponifiable fraction, apiosylskimmin, octacosanol etc(Reference: Illustrated Dravyaguna Vijnana, Vol. II, by Dr JLN Shastry)
Morphology
Bark -greyish, yellow, corky
Leaves – Entire, glabrous, broadly ovate
Inflorescence – Hairy panicle
Flowers – Petals are brownish yellow
Fruits – Drupe

Medicinal properties
Gambhari tree – Medicinal Properties
Rasa (taste) -Tikta, Kashaya, Madhura
Guna (qualities) – Guru (heaviness)
Vipaka – Katu (undergoes pungent taste conversion after digestion
Veerya- Ushna – Hot potency
Effect on Tridosha – Balances Vata and Pitta
Bhedana, Sothahara, Deepana-Pachana Medhya
Parts used, dosage, side effects
Gambhari herb – Part used- Root, fruit, flower, leaves
Gmelia arborea has two useful parts. One is roots and another one, fruit. Whenever Vata pitta balancing, nourishing functions are desired, its fruit is used, whenever strong antiinflammatory effect is desired, root is used. In this case, fruit is used.
Whenever, it is seen amongst Dashamoola (group of 10 roots), obviously root is used.
Dosage- Root bark decoction 50-100 ml, fruit powder 1-3 g
Side effects: There are no known side effects with this herb.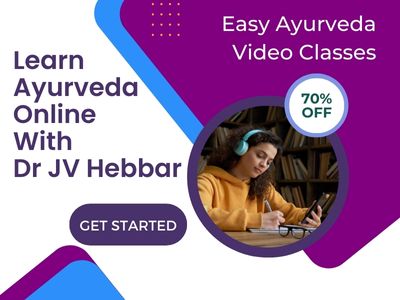 Sanskrit verse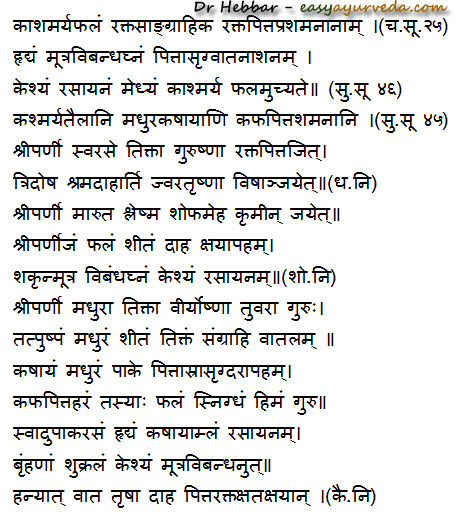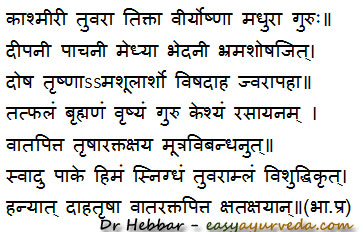 Traditional benefits
Gmelina arborea – therapeutic effects:
Fruits
Gambhari fruit –
Among the substances useful in bleeding disorders and to improve blood production, Gambhari fruit (also known as Kashmarya Phala) is best.
It is –
Snigdha – oily, unctuous
Hima – coolant
Guru – heavy to digest
Swadu Rasa – sweet taste
Swadu Paka – undergoes sweet taste conversion after digestion.
Hrudya – acts as cardiac tonic, congenial for heart
Mutravibandhaghna – relieves dysuria
Raktapittahara – Useful in bleeding disorders such as nasal bleeding, heavy periods, etc
Keshya –improves the strength of the hair and promotes hair growth.
Rasayana – anti aging, causes cell and tissue rejuvenation
Medhya – improves intelligence
Kshayapaha – useful to improve depleted body tissues, chronic respiratory conditions, tuberculosis
Vibandaghna – Relieves constipation
Brumhana – nourishing
Shukrala – improves sperm and semen quantity and quality
Vatahara – balances Vata Dosha
Vrushya – Aphrodisiac
Trushahara – relieves excessive thirst
Dahahara – relieves burning sensation
Kshatahara – useful in relieving effects of blood loss, external injury.
Leaves, root
Gambhari leaves, root are –
Tikta – Bitter
Tuvara – astringent
Madhura – sweet
Ushna – hot potency
Guru – heavy to digest
Raktapittajit – Useful in bleeding disorders such as nasal bleeding, heavy periods, etc
Tridoshahara – Balances all the three Doshas
Shramahara – Relieves tiredness, fatigue
Dahahara – Relieves burning sensation
Artijit – Relieves pain
Jvarahara – Useful in fever
Trushnahara – Relieves thirst
Vishahara – Anti toxic
Deepani, Pachani – Digestive, carminative
Medhya – Useful intelligence
Bhedani – Relieves constipation
Bhramajit – Relieves delusion, dizziness
Shoshajit – Relieves emaciation
Its leaves are made into paste and applied over the forehead to relieve headache.
Flowers
Gmelina arborea flowers –
Madhura – sweet
Sheeta – coolant
Sangrahi – absorbent, useful in diarrhea
Vatala – increases Vata
kashaya – astringent
Madhura – sweet
Sheeta – coolant
Sangrahi – absorbent, useful in diarrhea
Vatala – increases Vata
kashaya – astringent
Madhura Vipaka – Undergoes sweet taste conversion after digestion
Pittasrahara – useful in bleeding disorders
Asrugdara – Useful in heavy menstrual bleeding
Kaphapittahara – Balances Kapha and Pitta Doshas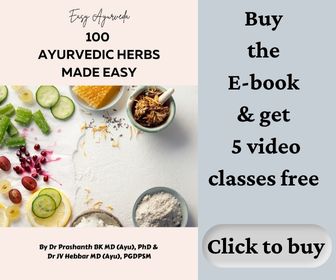 Interaction with medicines, supplements
Can this be used while taking Homeopathic medicine?
Yes. This product does not react with homeopathic medicine.
Can this medicine be continued while taking supplements like multivitamin tablets, Omega 3 fatty acids etc?
Yes. Generally, this product goes well with most dietary supplements. However, if you are taking more than one product per day, please consult your doctor for an opinion.
With western medicines
Seek your doctor's advice if you are taking this product along with other western (allopathic / modern) medicines. Some Ayurvedic herbs can interact with modern medicine.
If both Ayurvedic and allopathic medicines are advised together, then it is best to take Allopathic medicine first, wait for 30 minutes and then take the Ayurvedic medicine.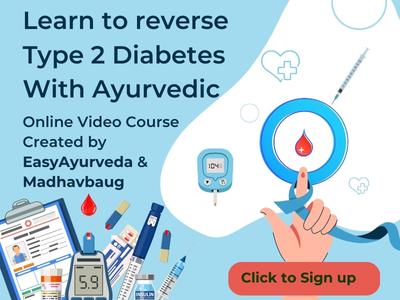 Research, substitute
Immune modulating effect – experimental effect
Substitute:
Gambhari fruits are used as substitutes for grapes and raisins – Reference: Bhavaprakasha.
Ayurveda medicines
Ayurveda medicines with Gmelina arborea –
Since it is one among Dashamoola, it is an ingredient in
Dasamoola Kashayam – used in treating inflammatory conditions
Dashamoola taila – herbal oil, used in headache, migraine
Dasamoola Katutrayadi Kashaya – Used in cold cough.
It is also an ingredient in medicines like –
Shir Shuladi Vajra Ras –used in treating migraine, Trigeminal neuralgia, headache
Sahacharadi Tailam, Dhanwantharam Thailam – used in rheumatoid arthritis, osteoarthritis etc
Sanskrit Synonyms
Kashmari – Very beautiful tree
Kashmiri – Grows in Kashmir region
Suphala – Fruit is beautiful and wholesome
Krushnavrinda – Leaf has blackish petiole
Katphala – Fruit resembles fruit of Katphala
Peetarohini – Yellow flowers
Madhuparni, Madhuparnika – leaves yield a sweet gel.
Sriparni – Leaves are very beautiful
Vatahrut – Gambhari alleviate vata dosha
Hira – It has rejuvenating qualities
Sthanika Karma (Systemic Action)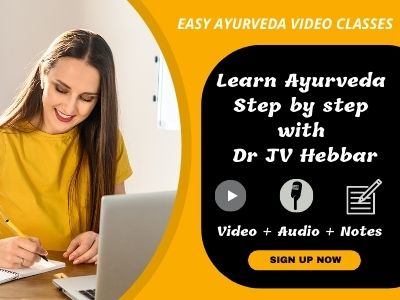 External Application: The conditions like fever associated with headache its leaf paste can be applied on head. Relive pain and burning sensation.

Internal administration-
Nervous system – Helps to reduce pain. Promote intellect. Indicated in giddiness, weakness of nervous system and in vataja rogas.
Digestive System – Carminative, facilitates movement of doshas in normal direction. Root is indicated in loss of appetite, constipation, hemorrhoids etc. Fruit is beneficial in excessive thirst.
Circulatory System – Good for the heart. Fruit is indicated in bleeding disorders and in heart related problems. Root bark is beneficial in edema.
Excretory System – Mutrajanana (Increases urine production) fruit and leaf juice along with milk and sugar is indicated in dysuria, Pus in urine, Urinary tract inflammation etc. This help to reduce pain and swelling
Respiratory System – Promote respiratory health. Indicated in Urakshata (Trauma of chest area) and Kshaya (Emaciation due to chronic respiratory illness)
Reproductive system – Garbhasthapana (Helps to retain pregnancy. Stimulate milk production in a lactating mother. Fruit is especially indicated in threatened abortion and in conditions like low sperm count. Root bark decoction is beneficial in postpartum diseases. Indicated in fever
Tapakrama – Indicated in fever and burning sensation
Satmikarana – Fruit has Aphrodisiac and nourishing action. Indicated in weakness due to fever