Article by Dr Raghuram Y.S. MD (Ay) & Dr Manasa, B.A.M.S
Hrid Roga means Cardiac Disorders in Ayurveda. Ayurveda explains in detail regarding how Ayurveda is afflicted with vitiated Vata, Pitta and Kapha, and the resultant symptoms.
Nidana
Hrid Roga Nidana (Causative Factors of Hrid Roga)
अति उष्ण गुरु अन्न कषाय तिक्त श्रम अभिघात अध्यशन प्रसङ्गैः।
संचिन्तनैः वेग विधारणैः च हृदयामयः पञ्च विधः प्रदिष्टः॥(मा.नि.२९/१)
व्यायाम तीक्ष्ण अति विरेक वस्ति चिन्ता भय त्रास मदाभिचाराः।
च्छर्धाम सन्धारण कर्षणानि हृद् ओग कर्तृणि तथा अभिघातः॥(च.चि.२६)
Ati Ushna – Consumption of too hot foods
Ati Guru – Consumption in excess of foods which are heavy to digest
Ati Amla – Excessive consumption of sour foods or taste
Ati Kashaya – Excessive consumption of astringent foods or taste
Ati Tikta – Excessive consumption of bitter foods or taste
Ati Shrama – Excessive physical exhaustion, laborious work
Abhighata – Injuries (physical and mental trauma)
Adhyashana – Excessive consumption of foods, frequent eating (even before the previous taken food has been digested)
Ati Prasanga (Ati Vyavaya) – Excessive indulgence in sexual activities (intercourse)
Sanchintana – Excessive thinking, stress, over-anxiety
Vega Vidharana Sandhaarana – Forcibly withholding the natural urges (impending body reflexes)
Vyayama – Excessive physical exercise
Teekshna / Ati Virechana – administration of strong purgatives, excessive administration of purgation therapy
Teekshna / Ati Vasti – administration of strong enemas, excessive administration of enema treatments
Bhaya – fear
Trasa – panic
Gadatichara – improper or inadequate treatment of other diseases
Chardi – frequent vomiting, excessive vomiting
Ama dosha – excessive ama or toxins in the body (ama = immature essence of digestion in circulation)
Karshana – emaciation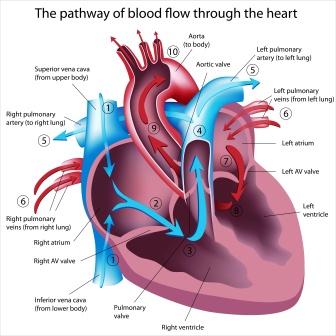 The Hridaya or heart gets contaminated on consumption of the above said causes either individually or collectively (on repeated exposure to causes) leading to the manifestation of 5 types of Hrid Roga or Cardiac disorders.

Samprapti
Samprapti (pathogenesis) of Hrid Roga
दूषयित्वा रसं दोषा विगुणा हृदयं गताः।
हृदि बाधां प्रकुर्वन्ति हृद्रोगं तं प्रचक्षते॥(सु.उ.४३)
Due to the consumption (exposure) of Nidanas (causative factors), the doshas get vitiated. These vitiated doshas in turn contaminate the rasa dhatu (nutritional fluid in circulation) and enter the Hridaya (heart). On entering the heart through rasa dhatu, the doshas trouble the heart and cause Hrid Roga.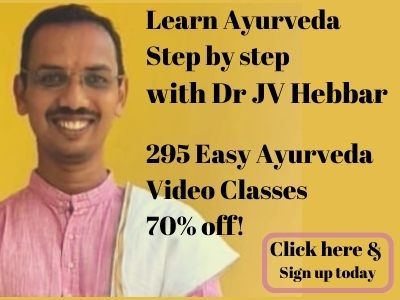 Samanya Lakshana
Hrid Roga Samanya Lakshanas (Common symptoms of Hrid Roga)
वैवर्ण्य मूर्च्छा ज्वर कास हिक्का श्वास आस्य वैरस्य तृषा प्रमोहाः।
च्छर्दिः कफ उत्क्लेश रुजो अरुचिः च हृद्रोगजाः स्युः विविधाः तथा अन्ये॥(दृढबल, च.चि.२६)
Vaivarnya – discoloration
Murcha – fainting, loss of consciousness
Jwara – fever
Kaasa – cough
Hikka – hiccough
Shwasa – breathlessness, shortness of breath, dyspnea
Aasya vairasya – feel of abnormal tastes in the mouth
Trusha / trishna – thirst
Pramoha – confusion
Chardi – vomiting
Kapha utklesha – excessive regurgitation of phlegm into the mouth
Ruja – chest pain, abdomen pain
Aruchi – tastelessness, anorexia
Types
Types of Hrid Roga
Hrid Roga is of 5 types:
Vataja Hrid Roga – Heart disease caused by vitiated Vata
Pittaja Hrid Roga – Heart disease caused by vitiated Pitta
Kaphaja Hrid Roga – Heart disease caused by vitiated Kapha
Tridoshaja Hrid Roga – Heart disease caused by all the 3 vitiated doshas (Vata, Pitta and Kapha)
Krimija Hrid Roga – Heart disease caused by worms, bacteria (infection), microorganisms
Vataja Hridroga
Vataja HrudRoga
आयम्यते मारुतजे हृद्रोगं तुध्यते तथा।
निर्मथ्यते दीर्यते च स्फोट्यते पाठ्यते अपि च॥(सु.उ.४३)
Aayamyate – expansion of the heart
Tudyate – Pricking. throbbing pain in the heart
Nirmathyate – churning pain in the heart
Deeryate – tearing pain in the heart
Sphotyate – blasting pain in the heart
Paatyate – cutting pain in the heart
Pittaja Hridroga
Pittaja Hrudroga
तृष्णा ऊष्मा दाह चोषाः स्युः पैत्तिके हृदय क्लमः।
धूमायनं च मूर्च्छा च स्वेदः शोषो मुखस्य च॥(सु.उ.४३)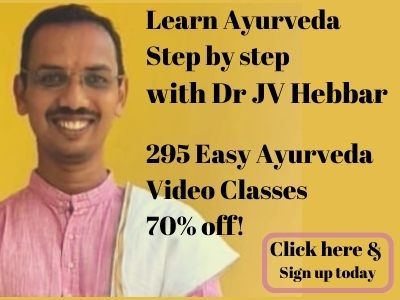 Trishna – Severe thirst
Ushnataa – Excessive temperature, heat in the body
Daaha – Burning sensation
Chosha – sucking pain
Klama – excessive tiredness, fatigue
Dhoomaayanam – feel as if smoke is being eliminated from the mouth (body)
Moorchaa – fainting, loss of consciousness
Sweda – excessive sweating
Mukha shosha – dryness of the oral cavity (mouth)
Kaphaja Hridroga
Kaphaja Hrid Roga
गौरवं कफ संस्रावो अरुचिः स्तम्भो अग्नि मार्दवम्।
माधुर्यं अपि च आस्यस्य बलासावतते हृदि॥(सु.उ.४३)
Gouravam – heaviness in the body (in the region of the heart, chest)
Kapha samsraava – excessive salivation / froth from the mouth
Aruchi – tastelessness, anorexia
Stambha – stiffness, rigidity (in the body, heart and chest)
Agni maardavam – loss of appetite, sluggish digestion (low metabolism)
Mukha maadhurya – feel of sweet taste in the mouth
Tridoshaja Hridroga
Tridoshaja Hrid Roga
विध्यात् त्रिदोषं तु अपि सर्व लिङ्गम्।(च.चि.२६)
In Tridoshaja Hrid Roga, all the symptoms mentioned in Vataja, Pittaja and Kaphaja Hrid Rogas will be collectively present.
Krimija Hridroga
Krimija Hrid Roga
त्रिदोषजे तु हृद्रोगे यो दुरात्मा निषेवते।
तिल क्षीर गुडादीनि ग्रन्थिः तस्य उपजायते।
मर्म एक देशे संक्लेदं रसः च अस्य उपगच्छति।
संक्लेदात् क्रिमयः च अस्य भवन्ति उपहत आत्मनः॥(च.सू.१७)
तीव्र अरित् तोदं क्रिमिजं स कण्डूम्।(च.चि.२६)
उत्क्लेदः ष्ठीवनं तोदः शूलं हृल्लसकः तमः।
अरुचिः स्याव नेत्रत्वं शोथः च क्रिमिजे भवेत्॥(सु.उ.४३)
The person who is undisciplined and doesn't have self control consumes in excess Tila (sesame and its products, preparations of sesame), Dugdha (milk), Guda (jaggery) etc out of greed while having Hrid Roga, a granthi (cystic swelling, nodule) is formed in a portion of Hridaya Marma (heart which is also one of the delicate and sensitive organ of the body). Gradually the granthi ges filled with kleda (vicious fluid, exudates). To this the rasa in circulation gets added and increases exudates and consequent dampness. This forms an ideal environment for the krimis to manifest (worms, microorganisms, bacteria etc). Krimis get manifest in this kleda in the person who consumes apathya (incompatible and unwholesome foods). Severe pain and discomfort gets manifest in the heart due to the development of these krimis. The person also experiences toda (pricking pain) in the heart region.
Below mentioned are the symptoms of Krimija Hrid Roga –
Utkleda – Nausea, feel to vomit
Shteevana – Excessive spitting
Toda – Pricking pain
Shula – Colic, Pain in chest
Hrillasa – Water brash, nausea
Tama – feel of darkness in front of the eyes
Aruchi – tastelessness, anorexia
Shyaava netratvam – Blackish brown discoloration (bluish black) of eyes
Shosha – depletion of the body, excessive dryness of the body, wasting of the body
Upadrava
HridRoga Upadrava (Complications of heart diseases)
क्लमः सादो भ्रमः शोषो ज्ञेयाः तेषाम् उपद्रवाः।
क्रिमिजे क्रिमिजातीनां श्लैष्मिकाणां च ये मताः॥(मा.नि.२९/७)
हृदये अभिहते कास श्वास बलक्षय कण्ठ शोष क्लोम अपकर्षण जिह्वा निर्गम मुख तालु शोष अपस्मार उन्माद प्रलाप चित्त नाशादयः स्युः।(च.सि.९)
Kloma Saada / Kloma apakarshana – weakness of kloma (wind pipe, lungs)
Bhrama – giddiness
Shosha – wasting of or excessive dryness of the body, tissue depletion
Krimija Upadrava – complications of Krimi roga are manifested in Krimija Hridroga, likewise the kapha symptoms (symptoms of vitiated kapha) will also be manifested in krimija Hrid Roga
Kasa – cough
Shwaasa – dyspnoea, breathlessness, shortness of breath
Bala kshaya – deterioration of strength
Kantha Shosha – Dryness of throat
Jihwa nirgamana – protrusion of tongue from the mouth
Mukha shosha – dryness of the oral cavity
Talu Shosha – dryness of palate (roof of the mouth)
Apasmara – loss of memory, memory related disorders, epilepsy
Unmada – insanity, mania, psychological disorders
Pralapa – delirium
Chitta Nasha – destruction of mind related and thought related activities
Just Before Finishing –
This article covers the causative factors, general symptoms, dosha specific symptoms, types and complications of Hrid Roga (heart disorders) as explained in Ayurvedic texts

Effective decoctions for heart diseases from Sahasrayogam
1. Hridrogahara Kashayam
Ref – Sahasrayogam, Kashaya Prakaranam, 32
a. Dhanyakadi Kashayam
Ingredients
Botanical Name
Method of using
Indications
Coriander
Coriandrum sativum
The decoction prepared with these ingredients should be served fresh with rock salt.
1.Heart diseases 2.Skin eruptions 3.Abdominal tumors 4.Vata diseases 5.Enlargement of spleen 6.Pain in flanks
Ginger
Zingiber officinale
Devadaru
Cedrus deodara
Chitraka
Plumbago zeylanica
Bala
Sida cordifolia
Ikshu
Saccharum officinarum
Bilwa
Aegle marmelos
b. Mashadi Kashayam
Ingredients
Botanical Name
Method of using
Indications
Masha
Vigna mungo
The decoction prepared with these herbs should be administered with sesame oil.
1.Heart disorders
Devadaru
Cedrus deodara
Bala
Sida cordifolia
2. Pushkarahwadi Kashayam
Ref – Sahasrayogam, Parishishta Prakaranam, 38
Ingredients
Botanical Name
Method of using
Indications
Pushkaramula
Inula racemosa
The decoction prepared with these ingredients should be served fresh
1.Cures heart disorders
Haritaki
Terminalia chebula
Ginger
Zingiber officinale
Shati
Curcuma zedoaria
Rasna
Pluchea lanceolata
Vacha
Acorus calamus
Pippali
Piper longum
Masha
Vigna mungo
Devadaru
Cedrus deodara
Bala
Sida cordifolia
3. Vidalin Veradi Kashayam
Ref – Sahasrayogam, Parishishta Prakaranam, 67
Ingredients
Botanical Name
Method of using
Indications
Vidanga mula
Roots of Embelia ribes
The decoction prepared with these ingredients should be administered with asafetida, long pepper, rock salt and alkali of barley
1.Colic
Kadaladi
Roots of Achyranthes aspera
Palasa
Butea monosperma
Ginger
Zingiber officinalis
Garlic
Allium sativum
Horse gram
Dolichos biflorus
Bilwa
Aegle marmelos
Agnimantha
Clerodendron phlomidis
Prisniparni
Uraria picta
Roots of Castor
Ricinus communis
Ajamoda
Trachyspermum ammi
Sesame
Sesamum indicum
Sphotya
Euphorbia prostrate
Motaka
Fagraea ceilanica
Ref – Sahasrayogam, Parishishta Prakaranam, 111