Anxiety to explain in simple terms is a combination of worry and nervousness. There are several types of anxiety such as driving anxiety, speech anxiety etc. Though anxiety appears to be a temporary state of nervousness of mind, its effect can lead to complications such as depression, psycho-somatic disorders etc.
Anxiety is a burning problem of the present era. Busy life, competition, eager to beat the challenges, curiosity about another's profession, life, status, earning, presentation or outlook etc are the prime factors causing anxiety. Micro-families, staying away from the native, weekend parties, short challenges etc too contribute to anxiety.
People are trying hard to overcome these particular complaints through various trace elemental supplements and nutritional supports. Developed countries emphasise different kinds of mental exercises and relaxing technologies, may be instrumental or non- instrumental. Even though Yoga– Pranayama – Asana– Reiki– Pranic healing etc support a lot in the management of anxiety, the role of Ayurvedic medicines remains unnoticed.
Ayurveda emphasises that food habits play a significant role in the origin of anxiety (Anavasthita chitttatva).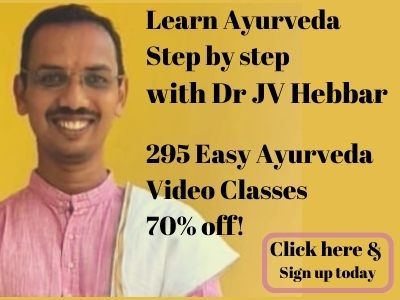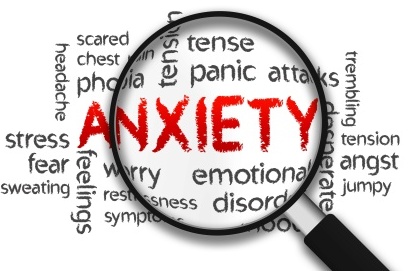 Anxiety causes
What-others-may-think-of-me attitude.
Fear of doing something out of the box, fear of getting out of the comfort zone
Spicy food (Vidahi Ahara), warm and penetrative food (Ushna Tikshna Ahara)
Pungent, sour and salty food (Katu, Amla, Lavana Ahara)
Deep fried eatables (Bharjita ahara)
Coloured and odd looking (presentation) food, Junk foods, aerated drinks, colas (Chitra vichitra Ahara)
Dry food (Ruksha Ahara, Yata yama Ahara)
Over indulgence in unrelated matters (Abhicharaja)
Interest in others life and attitudes (Anyena saha viparita bandha) etc – Love affairs, business commitments,  fear of unknown.
Origin of anxiety
Due to the above said factors, both Vayu and Pitta are aggravated and it leads to Anavasthitatva (instability) of the Doshas in their sites. Thus it leads to altered or extravagant functions of the sense organs. Ultimately, the unstable mind stimulates the sense organs to perceive or overindulge in their respective sensual perceptions. Once if it is followed, the attitudes are developed continuously to follow the same. At the end, the mind loses its normal sense perception and the person is excited. Thus anxiety is resulted.
Anxiety tips
Breath easy – Whenever you feel anxiety, try to have rhythmic breathing. Take deep breaths. It helps to relieve anxiety.
Say to yourself – in times of anxiety, say to yourself, "it is okay, it is alright, nothing to worry" repeatedly.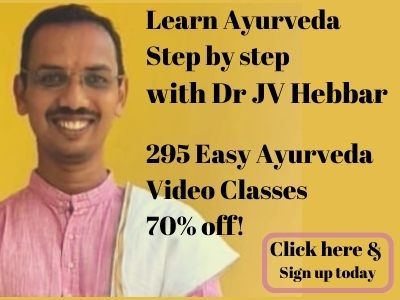 Self message exercise: Daily when you get up and before going to bed at night, sit erect on the bed, keep right palm over the heart area and say this ten times – " Day by day in every way I am getting better and better in overcoming all anxieties." This is a technique invented by Divine park.
Yoga and pranayama If you have access to a yoga teacher, go for pranayama and yoga. It certainly helps.
Meditation is really useful, whatever your religion is.
Friend in need – talk to your friend, who is positive and who encourages you in all aspects.
Hobbies – Develop some healthy hobbies that interests you. Blog writing on you favourite topic, collection of antiques, learning a form of art such as dance, music etc helps. Please remember – hobbies instill confidence.
Get up early – waking up early gives you time to plan for the day and instill confidence. Try it once.
Take time to relax – Watch comedy shows on TV, spend quality time with family and friends.
Facebook anxiety – Please remember, over involvement in social media might also cause anxiety. Sometimes, pressure to grab readers / fans / followers / friends to twitter, Facebook, blogs can also make you feel anxious and nervous.
Ayurvedic treatment such as Shirodhara and medicines with herbs like ashwagandha etc are very helpful to overcome anxiety, provided they are advised under expert guidance.
Consider consulting a psychiatrist / psychotherapist for help.
These are 12 of the many important and effective ways to fight anxiety. Please remember, anxiety can be fought by adopting these simple techniques and in all cases, medicine / supplements might not be required. Perseverance and practice are two essential tools to fight anxiety. Cheers!
Ayurvedic treatment
First line of treatment in any kind of psychological illness is assurance (Ashwasana). Proper assurance helps to correct the false believes if any, and modifies the way of thinking. Also it builds confidence in the individual and hence anxiety is reduced.
Correction of attitudes towards life, family and profession carries much importance. Reading self help books, reading biographies of successful people such as Steve Jobs, listening to music, friendly discussions, picnic or short trips, group discussions with similar minded people etc. contributes good benefits.
De-centralising the self ideas helps to seek suggestions of the fellow people. This reduces the mistakes committed due to anxiety and reduces the mis-concepts related to the self. It also gives the moral support in the routine steps of life and profession.
Mental and physical exercises which soothes the mind contributes significantly. As discussed in the beginning, specific Yogic postures (learnt from Yoga experts), Asana, Pranayama, Reiki, Pranic healing, self hypnosis etc. are much beneficial in this regard.
Medicines which calm the mind, like Vata- Pitta pacifying drugs are highly beneficial in this respect.
Ayurveda herbs for anxiety 
Brahmi-Indian penny wort
Shankhapushpi
Yashtimadhu-Indian liquorice
Mandookaparni-Bacopa plant
Amalaki-Amla(Gooseberry)
Draksha-Raisins
Bala-Sida plant
Ashwagandha
Chandana-Sandal wood
Jatamamsi-Nardostachys jatamamsi 
Ayurvedic medicines for anxiety
Saraswatarishta – improves immunity, voice tone and strength.
Saraswata Churna – used in treatment of psychosis, depression, low intelligence level etc.
Brahma Rasayana – It rejuvenates the body and fights against tiredness, fatigue, early grey hairs, wrinkling (Skin rejuvenation and hair rejuvenation).
Chandanasava – used in the treatment of spermatorrhoea. It is also used to improve strength.
Ashwagandharishta – used in the treatment of sexual disorders, depression etc
Triphaladi Taila – Head massage- used in the treatment of headache, hair fall, grey hairs, etc.
Chandanadi Taila – Head massage – It is a natural coolant oil. It is used to relieve burning sensation, dizziness, etc.
Manjishtadi Taila – Head massage – used in the treatment of headache and eye diseases.
Brahmi Vati – used in the treatment of depression, blood pressure etc.
Manasamitra Vati – used in Ayurvedic treatment of psychiatric conditions, to improve intelligence, speech problems, etc.
Mansyadi Kashaya – used in insomnia, depression and anxiety
Home remedies for anxiety
10 g Ashwagandha Churna , 5- dry grapes and 5- leaves of Brahmi are added together and decoction is prepared. This is filtered and one pinch of Cardamom powder is added. This is administered daily during bed time. This reduces anxiety significantly.
10 ml of Brahmi Swarasa is taken. 2 ml of honey and 5 ml ghee are added and mixed well. This is taken by licking early in the morning, in empty stomach. This helps to reduce anxiety.
Anxiety makes life miserable as the individual loses satisfaction in life and profession gradually. The person becomes introverted in due course of time and depression may ensue at a later stage. Early detection of the complaint elicits the true reason behind the problem and adopting the proper measures will surely help the patient to overcome it.