Article by – Dr. MS Krishnamurthy MD (Ayu), PhD (Ayu). Low back pain is the most common health complaint in the age group of 35-50 years in both the sexes. Above 50 years, it is associated with several other diseases as well, like diabetes or high BP. It is usually characterized by dull or sharp aching pain in lower part of the back (spine). This causes restriction in the activity and work capacity. Thus it ultimately reduces the day to day joy, and life becomes miserable.
Ayurveda refers this condition as Kati shoola.
Kati refers to 'low back' (hip) and shoola refers 'pain'.
The description of this condition is available in some other conditions like 'katigraha', 'prishtagraha 'etc, which are included under Vata Dosha imbalance disorders.
Causative factors
Intake of dry, light, bitter, pungent and cold food
Less food intake
Fasting or less nutritive food
Intake of mudga (green gram), masura (red lentil), kalaya (peanut) etc
Over-exercise
Long walk
Fall or injury to the back
Injury to the vital points
Weight lifting
Improper lying
Brisk walk
Excess sexual indulgence
Suppression of the urges
Work exhaustion
Stress
Grief
Fear
Dissatisfaction
Emaciation etc.
Clinical features
Low back ache may be a pre-monitory (prodromal) symptom in fistula in ano, sciatica, gouty arthritis, hernia, emaciation disorder etc. Pain is confined to lower part of the spine (back bone) especially lumbar region or lumbo-sacral area (rarely sacro-iliac region also). If it is secondary, earlier history of fall or injury may be associated. Rarely, radiating pain may be complained by the patient towards lower limbs. But it is quite common in low back aches if the defect is in the discs between vertebrae (back bones). Often the movements of lumbo-sacral region like flexion and rotation are hampered either partially or completely.
Low back pain may be found in mild form in case of anemia, sciatica, rheumatoid arthritis, hemorrhoids, urinary calculi, uterine disorders etc also.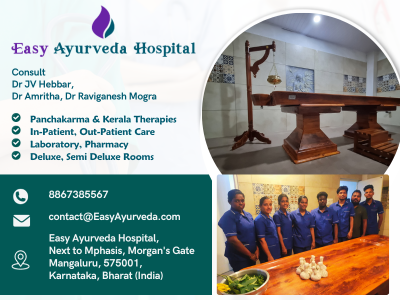 Line of treatment
The general principles of treatment of vata dosha are adopted in case of katishoola (low back pain). It includes various measures to suit its varied clinical entities, stages and associated complaints.
Snehana (oleation) – by sneha dhara (pouring oil), abhyanga (oil massage), avagaha (tub bath with oil or oleaginous medicaments), kati basti (retaining medicaments on the back) etc.
Swedana (sudation) –avagaha sweda (sweating treatment with tub bath), pizichil (kayaseka), nadi sweda (sudation through a tubular device – local sudation), panda sweda (sudation through medicated paste or powder) etc.
Mridu Samshodhana -mild purgation
Basti (medicated enema) like eranda basti, vaitarana basti, pippalyadianuvasana basti etc.
Single drug usage
Single drugs indicated in Low back ache:
Lashuna – Garlic
Eranda – Castor root and oil
Chincha – Tamarind fruit and leaves
Rasna – Pluchea lanceolata C. B. Clarke.
Shunti – Ginger
Bala – Sida cordifolia Linn.
Sahachara – Barleria prionitis Linn.
Ajamoda – Trachyspermum roxburghianum (DC.) Sprague
Haritaki – Terminalia chebula Retz.
Masha – Black gram
Prasarini – Sida cordata (Burm. F.) Borss.
Nirgundi – Vitex negundo Linn.
Ayurvedic formulations
Formulations indicated in Low back ache:
Vishwadi kashaya
Shuntyadi kwatha
Rasnasapthakam kashaya
Lashunaerandadi kashaya
Prasarini taila
Dhanwantaram taila etc.
Wholesome diet
Wholesome diet and habits indicated in Low back ache:
Godhuma(wheat)
Rakta shali(red rice)
Masha(black gram)
Shigru(drum stick)
Vartaki(small brinjal)
Lashuna(garlic)
Ghrita(ghee)
Amla dravya(sour substances)
Madhura ahara(sweet food)
Patola(snake gourd) etc.
Unwholesome diet
Unwholesome diet and habits referred in Low back ache:
Bitter, astringent and pungent food
Jambu(blue berry)
Cold water
Fear
Exhaustion
Standing
Driving
Cold food and beverages etc.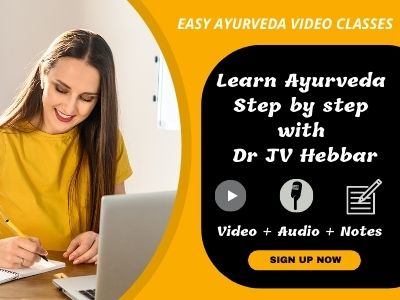 Last drop:
Being with the typical characteristic feature of pain, tenderness, and restricted movements in low back, katishoola (low back pain) is an irritant illness which often disturbs the routine activities of the individuals. Even though role of stress and strain is also significantly found in this complaint, rest to the lower part of the back gives much comfort. Good dietary supplements to fulfill the need of nutrients will help to get better benefit in this illness. The work which gives exertion to the back (like riding two wheelers, horse riding, weight lifting etc.) will undoubtedly worsen the condition. So, one should avoid these worsening factors, after becoming the victim of back ache.