Bhringraj is an important Ayurveda herb, widely used in hair fall treatment, liver disorders, skin diseases etc. Its botanical name is – Eclipta alba. Its whole plant is used for various medicinal purposes.

Botanical Name– Eclipta Alba (L.)Hassk [EcliptaEclipta prostrata (L) L; Verbesina prostrate L;]
Family– Asteraceae (Bhringaraja Kula)
Home remedies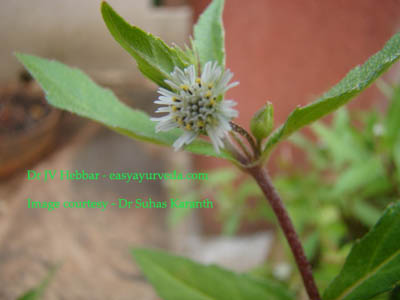 Few simple and effective home remedies of Bhringaraja re explained here below-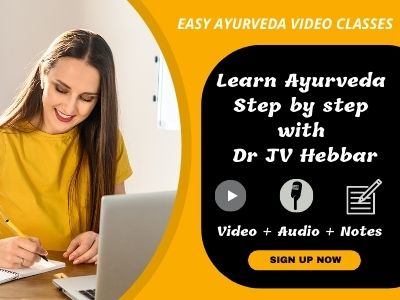 Throat infection
1. Bhringaraja fine powder with honey for throat irritation:
Dried bhringaraja is taken and fine powder is made and stored. 2-3 gram of this powder is mixed with honey and licked. This is effective in the treatment of cold, cough, throat irritation, anaemia, asthma etc.
Liver disorders
2. Fresh juice of leaves for liver disorders:
Whole plant is crushed to obtain fresh juice. This is taken early in the morning preferably in the empty stomach, in a dose of 10 – 15 ml. As per the need Bhumyamalaki (Phyllanthus indica) or Jeeraka (Cumin seeds) can be added to this remedy.
Regular practice for 7-12 days helps significantly in the treatment of liver disorders and obstructive jaundice.
Sexual virility
3. Seeds soaked in water for sexual virility:
The seeds are collected and stored immediately after the flowering, when it dries up, 2-3 pinches of this seed are soaked in sugar water and taken daily in the morning and evening. This helps to improve sexual vigor and promotes sperm count.
Chronic skin diseases
4. Bhringaraja (dry) decoction in chronic skin diseases:
The dry plant or coarse powder is taken and decoction is made. Daily this decoction is consumed in the dose of 20-40 ml twice daily. This has good benefits over the steroid resistant skin diseases and in psoriasis.
General method of decoction preparation is –
1 tablespoon (10 grams) of coarse powder of the herb is added with 2 cups of water. Boiled in open air till the total content is reduced to 1 cup. This is filtered and used.
Read related: How To Make Bhringraj Oil For Hair Growth [Video]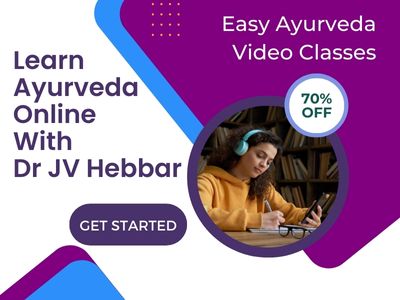 Hair care
5. Bhringaraja traditional oil for hair care:
25 grams of Bhringaraja Kalka(paste), 100 ml of sesame or coconut oil and 400 ml Bhringaraja decoction or 200 ml of fresh juice are taken and oil is cooked. This is effective in dandruff, hair fall, premature graying of hair, split hair etc.
Vernacular names
Hindi name– Bhangra, Bhangaraiya, Maka
English name – False Daisy
Kannada name – Garagada Soppu, Garga
Telugu Name– Guntagal Agaraku, Galgara
Tamil Name– Kayanthakarra, Kaikeshi
Marathi Name– Maka
Gujarati Name– Bhangaro
Punjabi Name– Bhangra
Bengali Name– Kesuriya
Malayalam Name- Jala Bhangara, Tekaraja
Arabic Name – Kadimulambit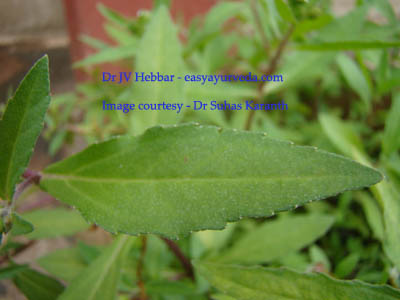 Sanskrit Synonyms
Markava – Prevent premature graying of hair 
Kesharanjana – helps to relieve gray hairs
Kesaraja – Good for hair
Bhringaraja – Helps to make the hair silky and shiny like that of a peacock.
Bharnagaraha,
Bringahva – Plant attracts honey bee
Mahaneela,
Ravipriya, angaraka, Suryavarta, Pitrupriya.
Classification
Bh. Pr. Ni – Guduchyadi varga
Different varieties
In Raja nighantu three varieties are mentioned; White, yellow and blue.
Shweta Bhringaraja (E..Alba) – white variety
Bhringaraja (Wedelia calendulacea Less) – yellow variety.
Bhringaraja( E. Alba?)
Yellow variety is more commonly grown as a decorative herb. The white and blue flowered varieties are used as Bhringaraj, for medicinal use.

Distribution
This herb is found throughout India, especially in marshy places. It grows rapidly in the rainy season.
Morphology
Root – Branched
Stem – Herbaceous, aerial, erect, cylindrical, branched, hairy
Leaf – Ramal, and cauline, simple, opposite elliptical reticulate venation
Inflorescence -Capitulum
Fruits – Cypsela
Useful parts – Panchanga ( leaves, stem, flower, root, fruits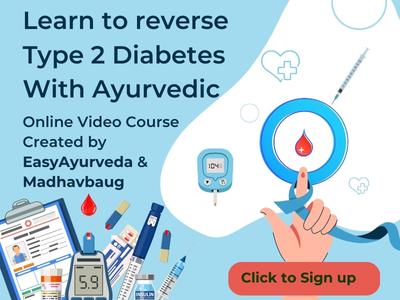 Major chemical constituents
Ecliptic, Wedelolactone, Des-me thyl wedelolactone, stigmasterol; Heptacosanol, Hentriacontanol, sixteen polyacetylenic thiophenes etc.
Ecliptin is the master constituent which makes the drug unique to apply in hair care as well in liver disorders and skin diseases.
The main chemical constituents of the plant are wedololactone, demethylwedelolactone; the other constituents are ecliptal, ß-amyrin, luteolin-7-O-glucoside, hentriacontanol, heptacosanol, and stigmasterol.
Medicinal qualities
Rasa (taste) – Katu (pungent), Tikta (bitter)
Guna (qualities) – Rooksha (dryness), Laghu (light to digest)
Veerya- Ushna – Hot potency
Vipaka- Katu – undergoes pungent taste conversion after digestion
Action – Kesya, Twachya, Krimighna, Swasahara, Netrya
Pharmacological Action
Hepatoprotective
Purgative
Analgesic
Hypotensive
Antiviral
Effect on Tridosha
Because of its pungent, bitter taste, dryness and lightness, it balances Kapha Dosha. Because of its hot potency, it balances Vata. Hence, it balances Kapha and Vata Doshas.
Part used
Whole Plant
Sanskrit verse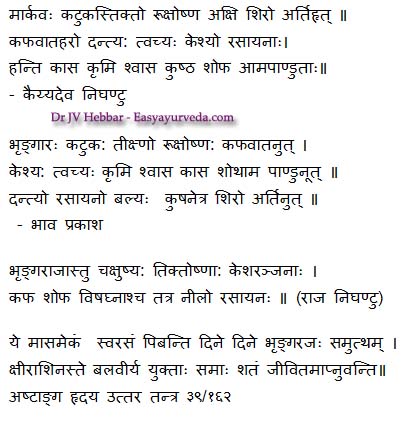 Bhringaraja benefits
(Correction – 7th line of verse, 4th word – Kushtanetra)
Akshirogahrut – useful in eye diseases
Dantya – improves strength of teeth
Tvachya – improves skin quality, useful in skin diseases
Keshya – improves the quality of hair. Hence it is one of the prime herbs used in many hair oils, like Bhringamalakadi Tailam
Rasayana – rejuvenating, anti aging
Kasahara – relieves cough, cold. Hence Bhringarajasavam, a very famous medicine with Bhringaraja as main ingredient is quite commonly prescribed in respiratory infections, cold, cough etc.
Krumihara – useful in intestinal worm infestation and infected wounds
Shwasahara – useful in asthma, COPD and other respiratory diseases
Kushtahara – useful in skin diseases
Shophahara – good anti-inflammatory herb, relieves pain, swelling and redness.
Pandunut – useful in anemia, an early stage of liver diseases. It stimulates the liver.
Amanut – useful in indigestion, relieves Ama.
Shiro artinut – useful in headache
Chakshushya – useful in improving eye sight
Kesharanjana – useful in gray hairs
Vishaghna – anti-poisonous, anti-toxic
It detoxifies blood. Hence it is used as an ingredient in Maha Manjsihtadi Kwath.
The seeds are used for aphrodisiac therapy
Its paste is applied over the swollen areas of elephantiasis, abscess etc.
Its paste is also applied over wounds to reduce pain and to induce quick wound healing.
Its juice extract is used as eye and ear drops to relieve infection and pain.
It is used for Nasya (nasal drops), after mixing with goat milk, in gray hairs and headaches.
Bhringaraja juice extract is administered along with castor oil to relieve intestinal worm infestation.
Learn how to make Bhringaraj hair oil
Bhringaraja juice extract – is administered for the purpose of rejuvenation, for a long period of time. During its administration, the patient is made to eat only cooked rice with milk. This helps to improve strength, immunity, fertility and life expectancy.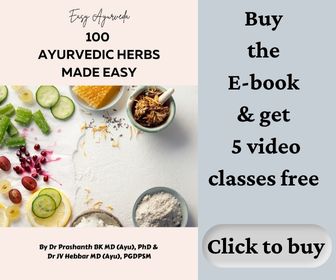 Dosage
Fresh Juice 5-10 ml
Powder – 250 mg – 2 grams in divided dose per day, or as advised by Ayurveda doctor.
Research
Hepato-protective activity of Eclipta alba (liver protective action)
Phyto-chemical standardization
Hair growth promotion activity
Side effects
Eclipta alba side effects:
There are no known side effects with this medicine in its regular dose.
It is used in medicines of pediatric conditions and in lactating mothers.
Pregnant mothers should seek doctor's advice before taking this herb.
A side effect reported by reader:
About 3 weeks ago I bought this herb in 300mg per capsule and started taking 2×2 capsules a day. After one week I noticed swelling of my feet first in the morning which then changed to swelling of my feet, particularly my right one. I continued taking the capsules for another week before making the connection to the capsules. It was so bad that I had difficulties walking as my feet were so swollen. I'm a healthy and slim woman, so this was very unusual. As soon as I stopped taking the capsules the swelling subsided and now two days later my feet are almost back to normal.
Note by Dr Hebbar:
Eclipta alba capsule dose of 2 X 2 per day is slightly higher than the usual prescribed dose of 1 capsule (or tablet) once or twice  a day. So the above side effect can be noted as a side effect on higher dose. However, it is worthwhile to know about its side effects on higher doses.
Interaction with medicines, supplements
Can this be used while taking Homeopathic medicine?
Yes. This product does not react with homeopathic medicine.
Can this medicine be continued while taking supplements like multivitamin tablets, Omega 3 fatty acids etc?
Yes. Generally, this product goes well with most dietary supplements. However, if you are taking more than one product per day, please consult your doctor for an opinion.
With western medicines
Seek your doctor's advice if you are taking this product along with other western (allopathic / modern) medicines. Some Ayurvedic herbs can interact with modern medicine.
If both Ayurvedic and allopathic medicines are advised together, then it is best to take Allopathic medicine first, wait for 30 minutes and then take the Ayurvedic medicine.
Ayurvedic Medicines
Bhringaraja taila, Bhringarajasava,
Bhringavaleha, Markava taila,
Shadbindu taila,
Bhringarajadi choorna,
Bhringaraja ghrita, Bhringamalaka taila,
Neelibhringaraja taila etc. are the few important formulations of this herb. Even though the leaves and stem are rich in medicinal principles whole plant can be used for medicinal purpose.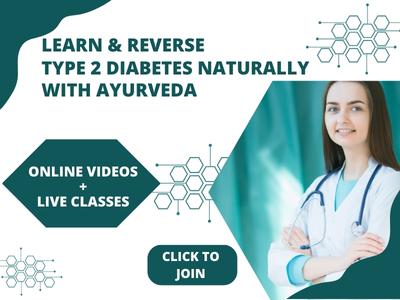 Sthanika Karma (Systemic Action)
External Application – External application of its paste is indicated in Elephantiasis, Hard Swellings etc. Promote wound healing and prevent scarring. Its juice can be administered on the ear and eyes. Juice can be applied on the head in case of headache. Juice mixed with goat milk can be used as nasya in Headache (Suryavarta) (Helps to reduce swelling, pain. good for eyes, promote hair growth).

Internal administration –
Nervous System – Pacify vata dosha and reduce pain. Indicated headache, giddiness etc.
Eyes – Good for Eyesight

Digestive System – It is carminative, digestant and stimulates the liver. Its action is mainly in Liver. Help for the proper release of pancreatic juice, and promote digestion. Indicated in worm infestation, Helps to reduce colic pain (Sulaprasamana). Indicated in loss of appetite, low digestive fire, indigestion, enlargement of Liver, Spleen, Hemorrhoids, Jaundice, Abdominal cramp etc. Its juice along with castor oil can be given for worm infestation.

Circulatory System – it helps for blood purification. Indicated in Hypertension, Anemia, generalized swelling etc..
Respiratory System – Katu and bitter taste helps to pacify Kapha dosha.

Excretory System – it has diuretic action and is indicated in burning micturition.
Reproductive System – Its seeds are Aphrodisiac.

Satmikarana – Promote strength, and health of the body.
Tvak (Skin) – Indicated in skin diseases like Kushta, Kilasa (Leucoderma), Sitapitta (Seasonal allergy) and other minor diseases.
Tapakrama – Indicated in fever as it helps for sweat production and Ama pachana.