Jyotishmati is an Ancient Ayurvedic herb, used for its immense health benefits. Its botanical name is Celastrus paniculatus Willd. It belongs to Celastraceae family (Jothismati kula).
Common names, Sanskrit Synonyms
Hindi name – Malkangani
English name – Staff tree
Malayalam name – Paluruvam
Sanskrit Synonyms: Tejasvini, Katabhi,
Paravatapadi – because its leaves look similar to pigeon's foot
Kakandaki – fruit resembles egg of crow
Kangunika, Peetataila – yields yellow coloured oil
Parnya
Durjara – It act as rasayana
Lavana – Alleviate many diseases
Pita taila – Oil has yellow colour
Sukshma phala – Fruits are small in size
Suvarna latika – Has yellow flowers
Katavika – pungent taste
Vega – Improve enthusiasm
Malakamgani
Tailaphayuna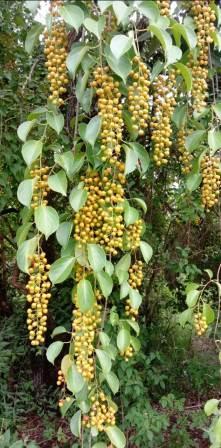 Classical categorization
Charaka Samhita – Shirovirechanopaga – group of herbs useful in Nasya treatment
Sushruta Samhita – Arkadi, Adhobhagahara, Shirovirechana
Vagbhata – Arkadi
Distribution
It is found in Punjab and Kashmir. It is usually found in places above 3000 feet height. Also found in Sri lankha, Maldives, Philippines etc.
Morphology
A large deciduous climber
Stem – Twigs fairly smooth, reddish brown, densely covered with small elongate whitish lenticels
Bark – Pale brown, rough with shallow cracks, exfoliating in small soft scales, pink finely streaked with red or reddish brown
Leaves – Elliptic or ovate, Short acuminate glabrous petiole is 10 mm long
Inflorescence – Long panicle
Flowers – 4 cm in diameter and green coloured
Fruit – Capsule
Seeds – Enclosed in an orange red aril
Useful part – Seed

Adulterants
Seeds of Cardiospermum helicacabum
Fruits of Duranta species
Medicinal qualities
Rasa (taste) – Katu – Pungent, Tikta – Bitter
Guna – quality – Teekshna – strong, piercing
Vipaka – its taste remains pungent even after digestion.
Veerya – Hot potency
Prabhava – special medicinal effect – Medhya – improves intelligence.
Phyto constituents
Seeds contain 60 % oil which is thick, reddish yellow in colour
Tannin, Celastin, Clastrol, Bita sitosterol are the other ingredients
Dosage
Taila ( Oil) – 5 -15 drops
Curna ( Powder) – 1 -2 g
Therapeutic effects
Kapha sameerajit – It balances Vata and Kapha.
Ati Ushna – it is too hot in potency
Teekshna – It is very strong and pungent
Vamani – It may induce vomiting.
Vahniprada – It improves digestion
Buddhi prada – improves intelligence
Smrutiprada – improves memory.
Other health benefits:
Sara – relieves constipation
Vranahara – helps in quick wound healing
Visarpa hara – useful in herpes
Panduhara – useful in anemia and liver disorders.
Action On Different Systems
Application of its oil relieve pain, alleviate vata dosha, and has simulative action
Nervous System – Improve intellect, nervine tonic, calm down nervous system
Digestive system – It is spicy and bitter in taste so act as carminative and also because of its unctuousness and hotness it has anulomana action. Indicated in decreased digestive strength, constipation etc.
Circulatory System – Stimulate heart, Reduce swelling
Respiratory System – It has Sirovirechana action and pacify Kapha dosha . Indicated in cough, dyspnoea etc.
Excretory system – Being hot in potency it act as diuretic
Reproductive System – Indicated in dysmenorrhea as it stimulate uterus. In conditions like impotency it can be used both externally and internally.

Jyothishamti taila
It is the oil extracted from its seeds. It is extensively used in skin diseases.
Research work
Ethnomedical uses
Nootropic activity
Special medicines with Jyotishmati
Jyotishmati oil – Used in treating leucoderma
Smriti Sagar Ras – used to improve memory and concentration, especially in elderly people.
Hartone capsules – A cardiac tonic
Jyotismati is used as an ingredient in making Lohadi Rasayan, as per Charaka Samhita Chikitsasthana 1.3/15-23, wherein, iron leaves are heated to red hot and dipped in Jyotismati Ksharajala (Alkali, mixed with water)
Malkangani (Celastrus paniculatus) Remedies: Rheumatoid Arthritis, Memory

By Dr MS Krishnamurthy MD(Ayu), PhD.
Memory enhancing herbs are the special areas of ongoing research. Malkangani – Jyotishmati is one such herb. Its seeds, leaves and seed oils are the main usable sources in medicinal field.
Botanical name – Celastrus paniculatus Willd
English Name – Climbing staff tree
Celastraceae family.
The plants are found abundantly in Himalayan mountains, Punjab, Bihar, Karnataka(Western ghats), Eastern parts of Bengal etc.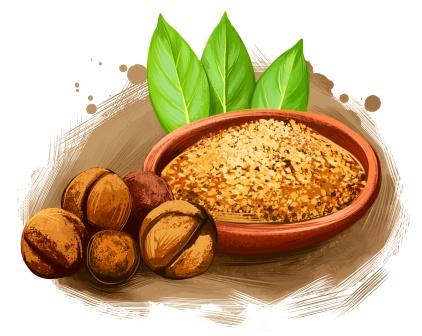 The seeds and seed oils are bitter mixed pungent in taste and hot in potency. It pacifies Kapha and Vata dosha and provokes Pitta. Hence in summer and in Pitta individuals it is administered with utmost caution.
It acts as diaphoretic, rubefacient, memory enhancer, stimulant and nervine tonic.
Excess dosage may cause gastric irritation, ulceration, acid peptic disorders etc. Hence it is usually administered with milk or sufficient amount of liquids.
Remedy for rheumatoid arthritis
Remedies:
1. Seed decoction for Rheumatoid arthritis:
One tablespoon of Staff tree seeds are taken and decoction is made. This is administered in the dose of 20-30 ml after food. This pacifies Rheumatoid arthritis quite effectively.
General method of preparation of decoction (kashaya) – 1 tablespoon of powder is added with 2 cups of water, boiled and reduced to 1 cup, filtered.
Remedy for chronic ulcers
2. Fine paste of the seeds for non healing chronic ulcers:
Seeds are taken and soaked in water or turmeric dissolved water for 2-3 hours. Then this is made into fine paste and applied over the edges of non healing ulcers, regularly. 5-8 days medication gives confidence of healing of the wounds.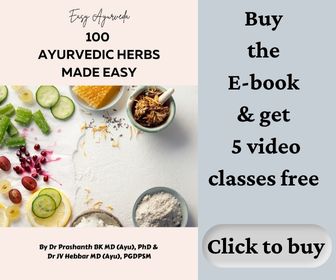 Remedy for memory improvement
3. Malkangani Oil of the seeds along with milk for enhancing the memory:
3-5 drops of Jyotismati oil is added to a cup of milk and given to the children during night. 20-30 days regular medication helps to improve the memory and intellect.
Blanch, spice restricted diet is essential to follow during this medication.
Remedy for muscular pain
4. Leaf paste for muscular pain:
A fist full of matured leaves is taken and a fine paste is made. This is applied over the swelling and muscular swellings. This helps to reduce the pain.
Constant search of the classical ayurvedic literatures give us sufficient inputs towards today's burning issues. Memory enhancing being the need of the day can be achieved by the drugs like Shankhapushpi- Jyotishmati- Brahmi- Mandukaparni etc. Even though classical ways of drug administration gives us the potent benefits in few of the cases, judicial modification is essential to fulfill the global need and proper way of formulation development may give the best to the mankind and it is expected soon by the combined venture of various faculties.
Interaction with medicines, supplements
Can this be used while taking Homeopathic medicine?
Yes. This product does not react with homeopathic medicine.
Can this medicine be continued while taking supplements like multivitamin tablets, Omega 3 fatty acids etc?
Yes. Generally, this product goes well with most of the dietary supplements. However, if you are taking more than one product per day, please consult your doctor for an opinion.
With western medicines
Seek your doctor's advice if you are taking this product along with other western (allopathic / modern) medicines. Some Ayurvedic herbs can interact with modern medicine.
If both Ayurvedic and allopathic medicines are advised together, then it is best to take Allopathic medicine first, wait for 30 minutes and then take the Ayurvedic medicine.