Black Musli – Curculigo orchioides is an Ayurveda herb, used for the treatment of sperm deformity, low sperm count, skin and respiratory disorders. It is called Talamuli in Ayurveda and Kali Musli in Hidni.
Latin name- Curculigo orchioides Gaertn.
Family- Amaryllidaceae ( Talamooli kula)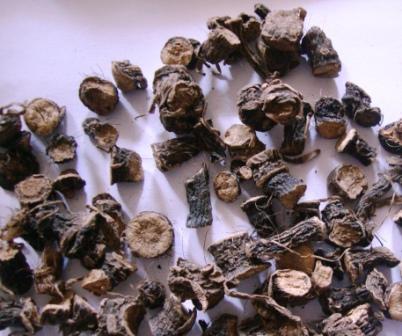 Vernacular names
Kali Musali – Names in different languages:
Hindi name – Kalimusali, Kali Musli
Arabic name – Muralisyahoa
Afghani name – Sadamurali
Bengali name – Sadamurali, Talamali, Talura
English name – Black musali, Black Musli
Gujarati name – Kalimusali
Kannada name – Neladali, Nelatenga, Nela tatigadde
Malayalam name – Nilappana, Nellapanakilonace
Marathi name – Bhuyimaddi, Kalimurali
Oriya name – Musali, Talamuli, Talamulika
Punjabi name – Syahoomusali
Tamil name – Nilappanaikilangu
Telugu name – Nalla-tudi, Nelatadai
Urdu name – Musali, Kali Musli
Konkani name – Bhuyimaddi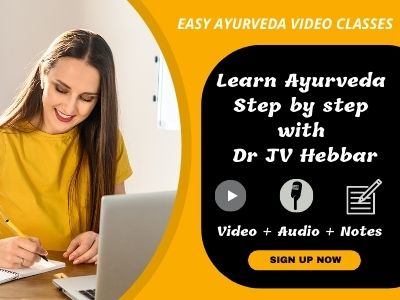 Sanskrit synonyms
Sanskrit Synonyms of Kali Mushli
Talamuli- It resembles the root of Tala – Tala mulam asyaha ithi (Ni.A)
Deergaskandika – Tuberous root is too long
Hemapushpee – Rootstock long, tuberous & flower bright yellow
Hirangpushpee – Flower is bright yellow colored
Krishnamusali – Root is black colored
Kanchanapushpika – Flower having color of gold
Musali- Cut the doshas & cure diseases
Mahavruksha – plant having great properties specially aphrodisiacs.
Sankari – Causes production of sukradhatu
Talapartri – Resembles not like that of Tala
Varahi – Having same properties it plant varahi
Mahavrusha, Vrusha Skandha, Vrusya kandha – Tuberous having aphrodisiac properties
Kharjuri, Khalini, Talamoolika, Talapatri, Gavali,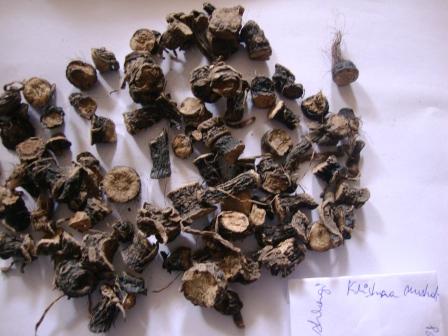 Morphology
Morphology of Curculigo orchioides:
It is a small plant with the leaves resembling that of Tala (Palm), 8-18 inch long, 1-2 inch wide with ridges. The stalks of the flowers are 1 inch long emerging from the ground. The flowers are yellow, 0.5-0.75 inch in diameter. The fruits are 0.5 inch long. The seeds inside the fruit are black, shiny and about 30 mm long. The flowers are seen in the month of June- August and the leaves shed in the winter leaving behind the root in the ground. The plant is found all over India.
Properties, part used, dosage
Medicinal Properties of Black Musali:
Rasa (Taste) – Madhura (Sweet), Tikta (Bitter)
Guna (Qualities) – Guru (Heavy for digestion), Snigdha (Slimy)
Vipaka – Madhura (Undergoes Sweet taste after digestion)
Veerya (Potency) – Ushna (Hot)
Karma (Actions) – Vatapitta shamaka (reduces vitiated vata and pitta dosha), Kaphavardaka (increases kapha dosha)
Pharmacological action – Aphrodisiac, Diuretic, Tonic, Anti cancerous, Anti inflammatory, Hepatoprotective
Part used- Root
Dosage-
Root powder- 3 to 6 g
Chemical composition
Chemical composition of Curculigo orchioides:
The rhizome contains saponins sapogenins; phenolic glycosides, a triterpene alcohol; a pentacyclic triterpene, an aliphatic compound, hentriacontanol, sitosterol, stigmasterol, cycloartenol and sucrose. A pep- tide, Curculin C, containing 114 amino acids, has been isolated from the fruit.
Uses, Sanskrit verse
Uses of Black musale – Talamuli: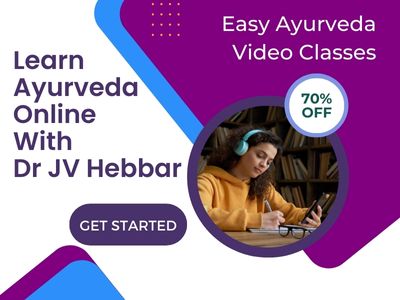 The powder of root of Talamuli is taken in a dose of 3-5 g and added with milk in conditions of lack of sperm count, lack of libido, general weakness.
The powdered root of Curculigo orchioides is burnt and the smoke coming out is inhaled as part of treatment in respiratory diseases like cough, difficulty in respiration due to congestion of phlegm.
The fresh root of Talamuli is made into paste and applied over the place affected with skin diseases.
The cold infusion of the root of Curculigo orchioides is given in a dose of 30-40 ml to treat burning micturition and difficulty in micturition.
To improve the complexion of the skin, the powder of the root of Talamuli is mixed with goat milk and honey and applied over the skin.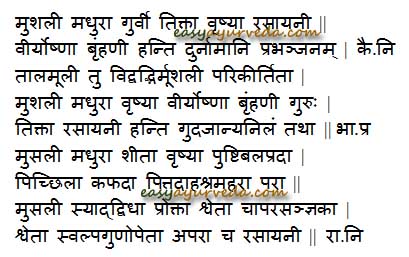 Traditional Uses as per Ayurveda:
Madhura – sweet
Guru – heavy to digest
Vrushya – aphrodisiac, improves vigor
Rasayana – anti aging, causes cell and tissue rejuvenation
Brimhana – improves weight
Indicated in –
Daha – burning sensation, as in gastritis, neuropathy, burning sensation in eyes etc
High Pitta disorders such as gastritis, hyper acidity.

Varieties
Sweta musali (Asparagus adescendans)
Ksira musali (Curculigo orchioides)
Adverse effect
No adverse effect is known or reported after the normal use of Talamuli.
It can increase Kapha. Hence, people with Kapha body type should take this in low doses only.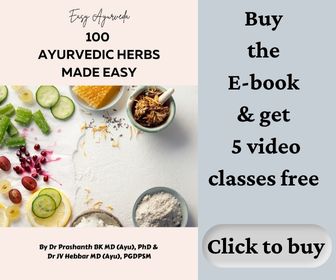 Interaction with medicines, supplements
Can this be used while taking Homeopathic medicine?
Yes. This product does not react with homeopathic medicine.
Can this medicine be continued while taking supplements like multivitamin tablets, Omega 3 fatty acids etc?
Yes. Generally, this product goes well with most dietary supplements. However, if you are taking more than one product per day, please consult your doctor for an opinion.
With western medicines
Seek your doctor's advice if you are taking this product along with other western (allopathic / modern) medicines. Some Ayurvedic herbs can interact with modern medicine.
If both Ayurvedic and allopathic medicines are advised together, then it is best to take Allopathic medicine first, wait for 30 minutes and then take the Ayurvedic medicine.
Ayurveda medicines
Ayurveda medicines containing Talamuli:
Musli kadiradi kashaya:  It used to treat a wide range of gynecological conditions like leucorrhoea and menorrhagia.
Rathi capsule: It is a proprietary Ayurvedic medicine which prevents testicular degeneration, enhances spermatogenesis and increases sperm count.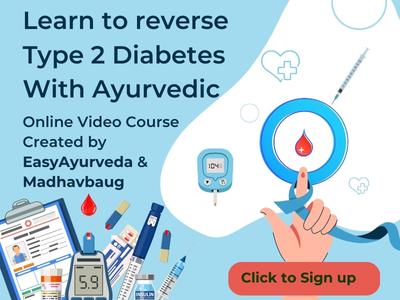 Somna tablet: It is a proprietary Ayurvedic medicine which promotes normal and restful sleep pattern.
Ashwamed capsule: It is a proprietary Ayurvedic medicine which is used to treat male sexual dysfunction, premature ejaculation and erection problems.
Research
Research articles related to Curculigo orchioides:
Prevention of neuro- toxicity: Curculigo orchioides was powdered and subjected to soxhlet extraction using methanol. C. orchioides (400 mg/kg) significantly promoted restoration of catalase (P < 0.005), superoxide dismutase (P < 0.005), and glutathion (P < 0.05) levels. Similarly, a very significant decrease (P < 0.005) in the levels of malondialdehyde was observed. Flavonoids and polyphenols are reputed to demonstrate neuro-protective effects. These phytochemicals in the present study might be responsible for demonstrating neuro-protective effect.

Increase testosterone level: In a preliminary pharmacological study by Chauhan et al. evaluated the effect of ethanolic extract of rhizomes on effect on sexual behavior in rats. Administration of 100 mg/kg of extract caused a significantly improved mating performance, penile erection, and enhanced attractability towards females. Anabolic and spermatogenic effects were evidenced by weight gains of reproductive organs.
Distribution and habitat
Native to subtropical & tropical Asia from India to Malaysian – Malaysia, New guinea, Philippians & Indonesia.
In India it is found in subtropical Himalayas from Kumaon (up) eastwards to Assam.
Classical categorization
Bhavaprakasha- Guduchyadi varga
Kaiyyadeva Nighantu- Oushadhi varga
Raja Nighantu- Moolakadi varga
Scientific classification
Kingdom: Plantae
Order: Asparagales
Family: Hypoxidaceae
Genus: Curculigo
Species: C. orchioides
Author: Dr.B.K.Prashanth M.D (Ayu), Ph.D
E mail: [email protected]
Click to consult Dr Prashanth BK
Sthanika karma (Systemic Acton)
Externally – Indicated in itching and associated skin diseases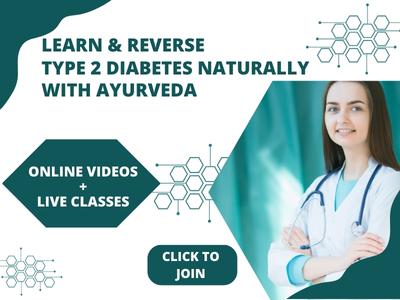 Internally
Digestive system – Carminative, Liver protective, facilitate movement of doshas in proper direction. Indicated in Malabsorption syndrome, Hemorrhoids, Jaundice etc.
Respiratory system – Indicated in cough, breathing disorders (Herbal smoking of Talamuli along with manashila)
Reproductive system – Indicated in Oligospermia, male infertility etc. Aphrodisiac.
Excretory system – Increases urine output. Indicated in UTI and in Dysuria.
Satmikarana – Strengthens the body and increases body bulk.