Bhumyamalaki – Phyllanthus niruri is an important liver protecting Ayurvedic herb and an ingredient of Chyawanprash. It is used for the treatment of fever, inflammation of spleen and liver, fractures, fever, jaundice and skin diseases.
Latin name- Phyllanthus niruri Linn., Phyllanthus amarus
Family- Euphorbiaceae (Eranda kula)
Uses, Indications
Uses of Bhumyalaki:
The paste of the leaf of Bhumyamlaki is applied over the skin to treat skin infection.
The paste of the whole plant of Phyllanthus niruri is applied with rock salt over the area affected with pain, swelling in cases of fracture.
The root of the plant is made into paste after rubbing with lime juice or rice gruel and applied as collyrium to treat diseases of the eye like conjunctivitis, blepharitis.
The fresh juice of the leaf of Bhumyamlaki is given in a dose of 15- 20 ml in empty stomach in the morning to treat indigestion, hyperacidity and jaundice.
The juice of the whole plant is given in a dose of 15 ml to treat fever, hepatomegaly and splenomegaly.
To treat cases of cough and asthma, the juice of Phyllanthus niruri is used as nasal drops or taken internally with sugar candy.
To treat typhoid, herbal tea prepared with fresh leaves of Bhumyamlaki is consumed.
Decoction of whole plant of Phyllanthus niruri is given in a dose of 30 ml as blood purifier and to treat skin infection.
Jaundice             : – Bhumyamlaki paste with buttermilk .
Pain in eye       : – Bhumyamlaki paste with Rock salt and Sour gruel are rubbed in a copper vessel when solidified it is applied as a paste on eyelid.
Prameha           : – Bhumyamlaki (20gm) and Maricha 20 in number taken internally.
Haemorrhage    : – Bhumyamalaki beeja with rice water in two weeks.
Pradara            : – Bhumyamalaki root taken with rice water 2-3 days.
Oedema /swelling      : – The leaves and root made in to kalka and taken with rice water
Chronic dysentry         :- The young shoots of the plant are administered in the form of an infusion.
Typhoid                        – Bhumyamalaki boil to make tea and use.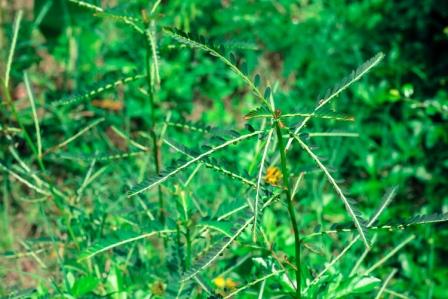 Properties, part used, dosage
Medicinal properties of Bhumyamlaki:
Rasa (Taste) – Tikta (Bitter), Kashaya (Astringent), Madhura (Sweet)
Guna (Qualities) – Laghu (Light for digestion), Ruksha (Dry in nature)
Vipaka – Madhura (Undergoes sweet taste after digestion)
Veerya (Potency) – Sheeta (Cold)
Karma (Actions) – Kaphapitta shamaka (reduces vitiated kapha and pitta dosha)

Part used- Whole plant
Dosage-
Leaf juice- 10 to 20 ml
Bhumyamalaki Powder- 3 to 6 grams in a single or divided dose per day.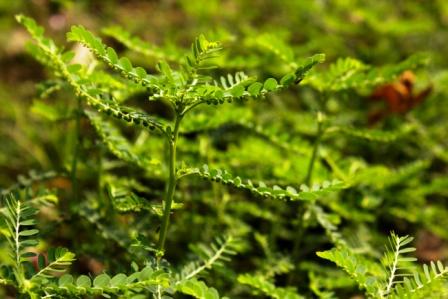 Sanskrit verse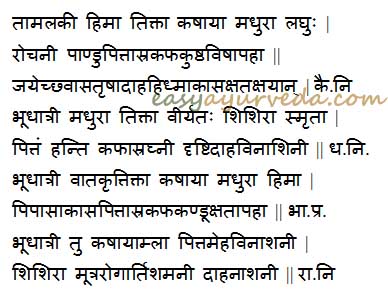 Bhumyamalki uses as per Ayurveda:
Rochani – improves taste, useful in anorexia
Indicated in –
Pandu – anemia
Pittasra – Raktapitta –Bleeding disorders such as nasal bleeding, heavy periods, etc
Kaphaja Kushta – skin diseases
Visha – Toxic conditions, poisoning
Shwasa – asthma and chronic respiratory disorders
Trushna – excessive thirst
Daha – burning sensation, as in gastritis, neuropathy, burning sensation in eyes etc
Hidhma – hiccups
Kasa – cough, cold
Kshataksheena – wounded, injured
Pipasa – excess thirst, dry mouth
Pitta Meha – diabetes, urinary tract disorders
Mutraroga – Urinary tract disorders
Pharmacology
Astringent, Antispasmodic
Appetiser, Anodyne
Anithepato toxic
Anti-viral, Biliary, urinary Cell protective property
Carminative, Febrifugal
Analgesic, Tonic
Vermifugal
Hypoglycemic, Emmenagogue
Laxative
Useful in –
Gonorrhea, Frequent menstruation
Diabetes, Skin ulcers
Sore throat, Itching
Chronic dysentery, Dropsy
Menorrhagia, Dyspepsia
Ophthalmia, Kidney stone
Hepatitis, Jaundice
Liver carcinoma, Cystitis
Prostatitis, Venereal disease
Anemia, Hypertension
Adverse effect
There is no known adverse effect after the normal use of Bhumyamlaki.
It is a coolant hence, can increase Vata Dosha, if used in very high doses.
It has laxative action. Hence, people with diarrhea, dysentery should take care.
Interaction with medicines, supplements
Can this be used while taking Homeopathic medicine?
Yes. This product does not react with homeopathic medicine.
Can this medicine be continued while taking supplements like multivitamin tablets, Omega 3 fatty acids etc?
Yes. Generally, this product goes well with most dietary supplements. However, if you are taking more than one product per day, please consult your doctor for an opinion.
With western medicines
Seek your doctor's advice if you are taking this product along with other western (allopathic / modern) medicines. Some Ayurvedic herbs can interact with modern medicine.
If both Ayurvedic and allopathic medicines are advised together, then it is best to take Allopathic medicine first, wait for 30 minutes and then take the Ayurvedic medicine.
Bhoomyamalaki for liver protection
Ayurvedic medicines
Ayurvedic medicines containing Bhumyamlaki:
Clearliv syrup: Clearliv is a proprietary Ayurvedic medicine. It conserves the liver, controls the liver damage and corrects the liver functions.
A3 forte capsule: It is a proprietary Ayurvedic medicine used for antipyretic, analgesic and antibacterial action.
Avir tablet: It is a proprietary Ayurvedic medicine used for treating allergic conditions like sneezing , urticarial rashes etc.
Livplus capsule: It is a proprietary Ayurvedic medicine used for the treatment of hepatic disorders, hyperacidity and improving the immunity.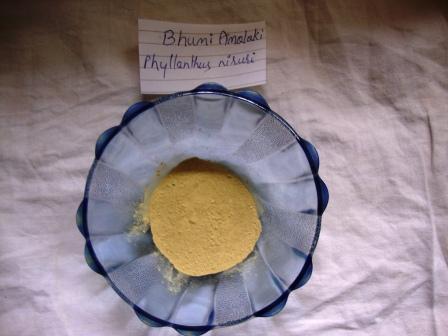 Vasuliv tablet: It is a proprietary Ayurvedic medicine used for the treatment of hepatic disorders.
Beliv tablet: It is a proprietary Ayurvedic medicine used for the treatment of fibrosis of liver and regeneration of the hepatic cells.
Chyavanaprasa
Kantakari Ghrita
Bhumyamalakadi kashaya
Research
Research articles related to Phyllanthus niruri:
Anti- oxidant property: In this study we assessed the antioxidant potential of Phyllanthus amarus (Euphorbiaceae). PAAEt treated rats showed a significant decrease in plasma LPO and a significant increase in plasma vitamin C, uric acid, GSH levels and GPx, CAT and SOD activities. SCGE experiment reveals that PAAEt was devoid of genotoxicity and had a significant protective effect against H 2 O 2 , STZ and nitric oxide (NO) induced lymphocyte DNA damage.
Hepato- protective action: The hepato protective effect of the aqueous extract of Phyllanthus niruri was evaluated in an acetaminophen-induced hepatotoxicity study using 24 male rabbits of the New Zealand White breed. The most significant healing or hepato protective effect of the extract of P.niruri was seen in the group administered the extract at 25 mg/kg which showed no significant change in the liver, both grossly and histologically.
Anti- diabetic study: epidemiological determinants of diabetes mellitus. In the present investigation hypoglycemic efficacy of Phyllanthus niruri methanol extract was tested on STZ induced mice diabetic models. The DC mice showed a significantly (p<0.001) higher level of glucose (+279%), when compared with their normal control counterparts. Diabetic mice of both of the groups (DT150 and DT250) showed a reduction in glucose levels, when compared to the DC ones. The results clearly indicated that the P. niruri whole plant methanol extract is anti-diabetic in nature due to the presence of different types of active phytochemicals.
Chemical constituents
Chemical composition of Phyllanthus niruri:
The plant consist many of the active constituents that are attributed to biologically active ligans, glycosides, flavonoids, alkaloids, ellagitans, phenyle proponoids, amarin, gernanin, corilagin found in the leaves, stem and root of the plant. Common lipids, sterols and flavonoids also occur in the plant. Niranthin nirtetralin phyltetralin is isolated from leaves. Kaemferol – 4 rhamnopyranocyte and criodictiol – 7 rhamnopyranoside, lup 20 (29) – en – 3 beta – ol and its acetates are extracted from roots.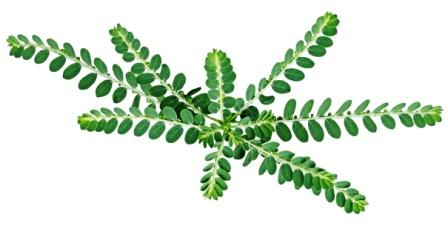 Anti- inflammatory study: Phyllanthus niruri L., Euphorbiaceae, spray-dried standardized extract was studied for its anti-inflammatory and antinociceptive activities in adult albino rats and mice. In conclusion, this study suggested that Phyllanthus niruri spray-dried standardized extract has potent inl ammatory and antinociceptive activities and that these activities are not modified by standard drying process, making it feasible to use the dry extract standardized to obtain a phytotherapic preparation and thus validating its use for the treatment of pain and inflammation disorders.
Botanical classification
Kingdom: Plantae
Order: Malpighiales
Family: Phyllanthaceae
Genus: Phyllanthus
Species: P. niruri
Sanskrit synonyms
Sanskrit Synonyms of Bhumi Amalaki
Bhoomi Amalaki, Bhumyamlaki/ Bhu dhatri- Small fruits grow in the ground level
Shatamala, Bahupatra- Plant has many leaves
Bahusuta, Bahuphala- Plant has many fruits
Tali – Bhumyamalaki removes malas from the body and retains health. So it is called as Tali.
Tamalaki- Fruit like small amalaki (gooseberry)
Trutoshiva, Sookshma patri- The leaves are small in size
Shubhankini, Shiva – auspicious
Bahu veerya – highly potent
Amala – It purifies the body
Shiva – Very potent medicine|
Bahuphala – Yields many fruits
Tali, Tamalini, Drudha Pada, Himalaya, Vitunnaka, Drudhamala, Dhrudha,
Vishvakparni, Dhurdha Phala, Tunnakarika, Ajata, Jatapi, Ucchata, Charuta,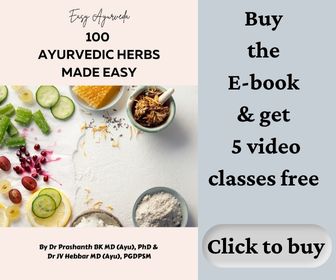 Classical categorization
Charaka – kasahara, Shwasahara
Dhanvantari Nighantu- Chandanadi varga
Bhavaprakasha- Guduchyadi varga
Raja Nighantu- Parpatadi varga
Kaiyyadeva Nighantu- Oushadhi varga
Vernacular names
Names in different languages:
Hindi name- Jangli amlai, Bhui amla
English name- Gale of wind, Stonebreaker
Bengali name- Bhui amla
Gujarathi name- Bhanya amli
Kannada name- Nelanelli, Bhu nelli
Malayalam name- Kizharnelli, kizhukanelli
Marathi name- Bhui amla, Bhui avla
Brazilian name – Quebrapedra
Oriya name- Bhui amla
Tamil name- Kilanelli
Telugu name- Nela usiraka
Urdu name- Bhumiamala
Spanish name – Chanca piedra
Burma – Mizhipiya
Bihar – Meri koa, kandara
Canresa – Kirannelligida
Decan – Bhuvinanvalah
Delhi – Dhadhan,monk
French – Herbed u chargin
Philipines – Hierba de san Paulo
Porbunder – Bhonyanmeri
Sind – Niruri
Sinhalesha – Pittawaka
Westindies – Pettitamarine
Morphology
Morphology of Phyllanthus niruri:
Bhui Amla  is a weed that grows around 2 feet tall and has small leaves. These leaves are alternate and arranged in 2 rows. They are elliptical in shape and have a narrow base with 2 stipules. The flowers of the plant are small and monoecious and are found in pairs. It bears herbaceous branches and the light green bark is smooth to touch. The plant has pale green colored flowers that are often flushed with red color. The bark is smooth and light green. The fruits are tiny, smooth capsules containing seeds. The plant is found all over Coastal India in the temperate climate.
Author: Dr.B.K.Prashanth M.D (Ayu), Ph.D
E mail: [email protected]
Click to consult Dr Prashanth BK
Sthanika Karma (Systemic Action)
External use – Paste application is indicated in skin disorders, wound inflammation, skin disorders etc. its leaf paste along with salt is beneficial for fracture healing. Rot paste mixed with fermented gruel and Saindhava lavana can be used in eye disorders for external application.
Internal administration-
Digestive system – Carminative, digestant, Liver stimulant, and enhance bowel movement . Indicated in Anorexia, Excessive thirst, Gastric ulcer, Jaundice etc.
Circulatory System – Indicated in Bleeding disorders, acts as a blood purifier
Respiratory system – Indicated in cough and breathing difficulty. In hiccough its root can be given with sugar
Reproductive system –indicated in female reproductive tract related diseases.
Excretory system – It is indicated in diabetes
Satmikarana – Promote body strength. It has anti poisonous action.