Almond – Badam – known as Vatada in Ayurveda, is mainly used for the treatment of nerve disorder, general debility, to improve the memory power and increase the sexual vigor.
Botanical name – Prunus amygdalus Baill.
Family- Rosaceae
Vernacular names
Names in different languages:
Hindi name- Badaam
English name – Almond
Tamil name- Vaadumai
Kannada name – Badami
Unani name – Baadam Shireen
Almond tree is a small, naturally found and also cultivated tree in the region of Kashmir, Himachal Pradesh and temperate regions of India. It grows up to a height of 6-8m bearing red flowers.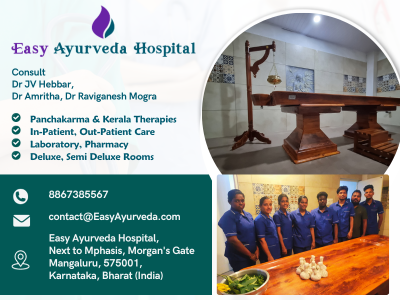 Sanskrit synonyms
Vata vairi- Pacifies the vata dosha
Netropama phala- Beneficial for the eyes
Vatama- Reduces the vitiated vata dosha
Classical categorization
Charaka- Phala varga
Bhavaprakasha- Amradi phala varga
Sanskrit verse
Properties, health benefits
Properties:
Rasa (Taste) – Madhura (Sweet)
Veerya (Potency) – Usna – it is slightly hot in nature.
Guna (Quality) – Snigdha (Slimy), Guru (Heavy)
Vipaka- Madhura (Undergoes sweet taste after digestion)
Karma (Properties) – Vatahara (Reduces vata dosha), Pitta Kara (Increase pitta dosha), Vrsya (Aphrodisiac), Balya (Provide strength)
Pharmacological action – Tonic, Aphrodisiac, Laxative, Lithotriptic, Diuretic
Varieties
2 types – Sweet Almond and Bitter almond
Substitute
Terminalia catappa (Combretaceae)
Ayurvedic health benefits of Almond:
Vrushya – aphrodisiac, improves vigor
Vatahara – useful in treating disorders of Vata Dosha imbalance such as neuralgia, paralysis, constipation, bloating, etc
Shukrala – improves sperm and semen quantity and quality
Raktapitta –useful in bleeding disorders such as nasal bleeding, heavy periods, etc
Its fruit pulp is balances Vata and Pitta Dosha. It slightly increases Kapha Dosha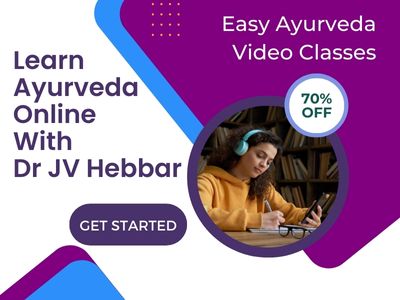 How to consume?
How to consume almonds?
Many experts opine that, it is better to soak almonds in water over night, next day, peel the skin off, and consume it on empty stomach.
Soaking and peeling the skin off helps to absorb the almond nutrients better.
Dose per day: For regular consumption, 5 almonds per day is a good dose.
Almonds can also be enjoyed in other ways such as – its powder, boiled with milk along with breakfast, using it in making porridge, kheer etc, making powder and mixing with beverage drinks such as horlicks etc.
Almond oil for Nasya – Almond oil can be used as nasal drops. 2 drops of this oil can be administered to each nostril. It is good for hair, skin, dandruff, eczema etc. It has nourishing effect on the body and sense organs.
Part Used– Seed and its Kernel
Dosage- Seed Powder 3-5 g, Oil – 3 – 10 ml , Seed – 7- 10 seeds
Chemical constituents
The chief protein of almond is amandin. Amandin has about 12% arginine content. The bitter kernels of almond contain about 3-3.5% arginine whereas the ripened sweet almond kernel is free of arginine. The bitter almond oil containing hydrocyanic acid is used as antispasmodic and sedative. Owning to the presence of amygdalin, the bitter almond is unfit for human consumption. The seed oil contains myristic, palmitic, stearic and linoleic acid. The seed contains prunasin, daucosterin.
Uses of Vatada (Almonds):
The powder of almond is taken in a dose of 5- 8 g with milk as a nerve tonic and as memory booster.
Almond is used as health promoter. Hence it is an ingredient in many commercially available health drinks, health powders.
It is used in the preparation of many confectionaries, sweets as adjuvant to enhance the taste of the product.
The lehya (type of ayurvedic confectionery) is prepared and given to patients suffering from low back ache, migraine headache and women suffering from irregular menstruation in a dose of 5-8 g with milk.
Ayurvedic formulations
Important formulations containing Vatada:
Spark royal capsule- Spark royal strengthens and tones the sexual glands. It supports the healthy production of sex hormones and is very good for increasing sexual ability. It also increases stamina and libido and acts as a restorative nutrient.
Ella Herbal Hair Oil – Manufactured by Lalas.
Many of the health drinks available in the market contain almonds. It ensures stamina, boosting the immunity and memory.
Jivaniyadi Ghrita
Amritaprasha Ghrita
Mahamayura Ghrita
Research articles
Research articles related to Vatada (Almonds):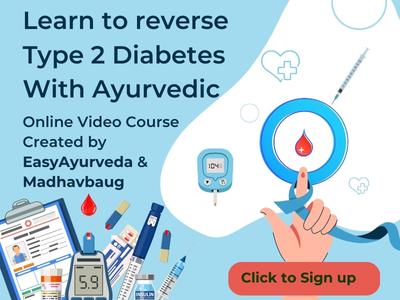 Therapeutic application of almonds- Almonds are good sources of anti-oxidant nutrients. Almonds contain proteins and certain minerals such as calcium and magnesium. They are a rich source of vitamin E, dietary fiber, B-vitamins, essential minerals mono-unsaturated fats and phytosterols which have cholesterol lowering properties.
In treating amnesia- Diminished cholinergic transmission and increase in cholesterol levels appear to be responsible for the development of amyloid plaques and dementia in Alzheimer patients, PA may prove to be a useful memory-restorative agent. It would be worthwhile to explore the potential of this plant in the management of Alzheimer's disease.
Antioxidant Defense and Hepatoprotectionby Procyanidins from Almond (Prunus amygdalus) Skins – Procyanidins, polymeric flavan-3-ols, are known to possess antioxidant, antiatherogenic, and anticarcinogenic properties. ASP also potently enhanced the expression of nuclear factor-E2-related factor 2 (Nrf2) and antioxidant response element (ARE)-reporter gene activity in vitro. APAP-induced hepatotoxic markers including AST and ALT in mice were inhibited by ASP administration.
Precaution, Side effects
Precaution –Potential toxic risk
The study revealed a wide range of cyanide concentrations in commonly available bitter almonds and apricot kernels, in contrast to almond syrup, which is exempt of hydrocyanic acid and remains a product without any risk to human health.
Side effects:
Excess almonds – more than 8-10 per day may cause bloating, constipation and nausea.
Almonds are considered safe during pregnancy, lactation and in children.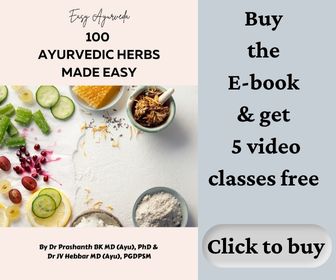 Interaction with medicines, supplements
Can this be used while taking Homeopathic medicine?
Yes. This product does not react with homeopathic medicine.
Can this medicine be continued while taking supplements like multivitamin tablets, Omega 3 fatty acids etc?
Yes. Generally, this product goes well with most of the dietary supplements. However, if you are taking more than one product per day, please consult your doctor for an opinion.
With western medicines
Seek your doctor's advice if you are taking this product along with other western (allopathic / modern) medicines. Some Ayurvedic herbs can interact with modern medicine.
If both Ayurvedic and allopathic medicines are advised together, then it is best to take Allopathic medicine first, wait for 30 minutes and then take the Ayurvedic medicine.
Nuts, almonds, blanched
Taste – sweet
Properties – unctuous, heavy
Potency – not very hot (as it is softened in water)
After digestion taste transformation ( Vipaka ) – sweet
Effect on Doshas
Vata balancing
Pitta nourishing (due to decreased hotness)
Kapha nourishing (is vrishya and balya)
Nuts, almonds, dry roasted, without salt added
Taste – sweet
Properties – not very unctuous, not very heavy
Potency – hot
After digestion taste transformation ( Vipaka ) – sweet
Effect on Doshas
Vata balancing
Pitta increasing
Kapha neutral (due to decreased unctuousness and heaviness)
Nuts, almonds, dry roasted, with salt added
Rasa – sweet, slightly salty
Guna – not very unctuous, not very heavy
Veerya – hot
Vipaka – sweet
Effect on Doshas
Vata balancing
Pitta increasing (salt also increases Pitta)
Kapha neutral (due to decreased unctuousness and heaviness)
Nuts, almonds, oil roasted, with salt added
Rasa – sweet, slightly salty
Guna – unctuous (oil roasted), not very heavy
Veerya – hot
Vipaka – sweet
Effect on Doshas
Vata balancing
Pitta increasing
Kapha nourishing (even though heaviness is slightly reduced, it is unctuous)
Nuts, almonds, oil roasted, with salt added, smoke flavor
Rasa – sweet, slightly salty
Guna – unctuous (oil roasted), not very heavy
Veerya – hot
Vipaka – sweet
Effect on Doshas
Vata balancing
Pitta increasing
Kapha nourishing (even though heaviness is slightly reduced, it is unctuous)5
Nuts, almonds, oil roasted, without salt added
Taste – sweet
Properties – unctuous (oil roasted), not very heavy
Potency – hot
After digestion taste transformation ( Vipaka ) – sweet
Effect on Doshas
Vata balancing
Pitta increasing
Kapha nourishing (even though heaviness is slightly reduced, it is unctuous)
Nuts, almonds, oil roasted, lightly salted
Rasa – sweet, slightly salty
Guna – unctuous (oil roasted), not very heavy
Veerya – hot
Vipaka – sweet
Effect on Doshas
Vata balancing
Pitta increasing
Kapha nourishing (even though heaviness is slightly reduced, it is unctuous)
Nuts, almond paste
Taste – sweet
Properties – unctuous, slightly less heavy (as almond paste is prepared by adding small quantity of water)
Potency – not very hot
After digestion taste transformation ( Vipaka ) – sweet
Effect on Doshas
Vata balancing
Pitta nourishing (due to decreased hotness)
Kapha nourishing
Nuts, almond butter, plain, without salt added
Rasa – sweet
Guna – unctuous, heavy
Veerya – not very hot
Vipaka – sweet
Effect on Doshas
Vata balancing
Pitta nourishing (due to decreased hotness)
Kapha increasing
Nuts, almond butter, plain, with salt added
Rasa – sweet, slightly salty
Guna – unctuous, heavy
Veerya – hot (salt is hot in potency)
Vipaka – sweet
Effect on Doshas
Vata balancing
Pitta increasing (salt is Pittakara)
Kapha increasing
Nuts, almonds, honey roasted, unblanched
Rasa – sweet
Guna – not very unctuous, not very heavy (roasted)
Veerya – hot
Vipaka – sweet
Effect on Doshas
Vata balancing
Pitta nourishing ( roasted almond is Pitta increasing, but honey is Pitta balancing)
Kapha balancing (roasted almond is Kapha neutral due to decreased unctuousness and heaviness, but honey is Kapha balancing)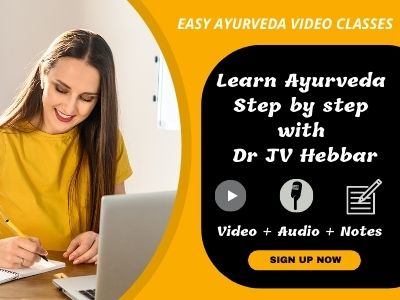 Author:
Dr.B.K.Prashanth M.D (Ayu), Ph.D
E mail: [email protected]