Agastya rasayanam is one of the very famous Ayurvedic medicine for asthma. It is widely used in many of the respiratory diseases. It is not only a medicine, but also a rejuvenative (rasayana). When compared to other Ayurvedic medicines for asthma & other respiratory diseases, Agastya rasayana is advantageous, since it is very safe for long-term use. It is also famous by the names- Agastya rasayana & Agastya hareetaki rasasyana, (Hareetaki – Terminalia chebula, being its main ingredient).
This Ayurvedic medicine has been first described by Agastya Rishi – Ancient sage of India.
Benefits
Improves the respiratory strength.
Useful in many of the acute and chronic respiratory disorders.
Excellent in all types of asthma and tuberculosis.
It builds the immunity and can be used suitably in hiccup, chronic fever, gulma, grahani, piles and heart ailments.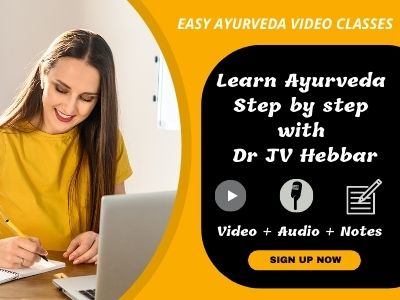 Valee Palitam Hanyaat – Useful in grey hair condition.
Varna Ayu Bala Vardhanam – Improves skin health, age and strength.

Adenoids in Children:
This medicine is useful in adenoids in children. It is useful to reduce runny and stuffy nose. But some more medicines to reduce the size of adenoids, such as Kanchanara guggulu, nasya therapy with strong herbs etc. might be required. Consult your doctor for full treatment.
Ingredients
Key ingredients of Agastya haritaki rasayana –
Dashamoola (group of ten herb roots- brings down the local inflammation),
Bala (Sida cordifolia),
Atmagutpa (Mucuna pruriens),
Yava – barley,
Gajapippali,
Pippali moola (root of Piper longum),
Hareetaki (Terminalia chebula),
Bharngi (Clerodendron serratum),
Pushkaramoola (Inula racemosa),
Chitraka (Plumbago zeylanica),
Shati (Curcuma zeodaria),
Apamarga (Achyranthus aspera),
All these herbs helps in relaxing respiratory spasm, expels mucus out of the respiratory tract and eases breathing.
Full list of ingredients –
2 Palas of each of – 96 grams
Bilva Bael – Aegle marmelos
Syonaka – Oroxylum indicum
Gambhari – Gmelina arborea
Patali – Stereospermum suaveolens
Ganikarika
Shala-Parni
Prsni-Parni – Uraria picta
Brhati – Solanum indicum
Kantakari – Solanum xanthocarpum
Goksura – Tribulus terrestris
Svayangupta
Shankha Puspi – Convolvulus pluricaulis
Shati – Hedychium spicatum
Bala – Abution indicum
Hasti-Pippali – Long pepper fruit – Piper longum
Apamarga – Achyranthes aspera
Pippali – Long pepper fruit – Piper longum Mula
Chitraka – Plumbago zeylanica
Bharngi and
Puskara Mula – Inula racemosa is added with
1 Adhaka of Yava and
100 fruits of Haritaki – Terminalia chebula
By adding 5 Adhakas of water, these drugs are cooked till the grains of Yava (barley) becomes soft (Svina) and then the decoction is strained out.
These 100 fruits of Abhaya Harad – Terminalia chebula are then added to the above mentioned decoction, 1 Tula of Jaggery
1 Kudava each of
Ghee,
Sesame oil and
Powder of Pippali – Long pepper fruit – Piper longum
The recipe is then cooked. Thereafter, when it becomes cool, 1 Kuduva of honey is added.
This is a rejuvenating recipe.
This medicine is also known as Agastya Haritaki Rasayana.
Shloka, Sanskrit Verse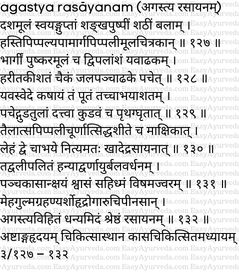 Dosage
Adult dosage is – 1 – 2 teaspoons – 1 – 2 times a day, before or after food, along with warm water or honey, or as directed by Ayurvedic doctor.
Dose for children is – 1 teaspoon once or twice a day, with a cup of lukewarm water, before or after food, as directed by Ayurvedic doctor.
If the child does not like its taste, half a teaspoon of honey can be added to this, before administration.
Side effects
There are no known side effects for this medicine. However, a very high dosage may cause loose stools.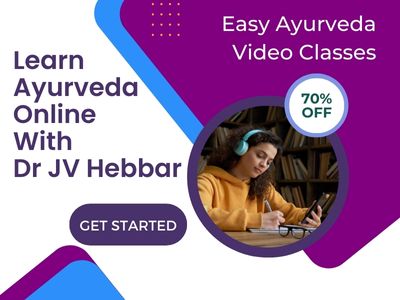 Weight loss:
One person has experienced weight loss with this product. Upon taking this for cough for 2 months, he had experienced 5 kg weight loss.
The reason for this is, Haritaki – acts as a mild laxative and has shoshana – drying properties. This helps to balance Kapha dosha and lowers the body fat. Hence, Agastya Haritaki makes a perfect remedy if a person is obese and is having respiratory symptoms.
Shelf life: 3 years from the date of manufacturing.
Reference of Agasthya Rasayana from Charaka:
Charaka Samhita, Chikitsa Sthana – 17th chapter, Kasa Chikitsa: 57-62
Ashtanga Hrudayam
Presentation: Jar pack of 200 g (Kottakkal Arya Vaidya Sala).
Traditional uses
Intake of 2 fruits of Abhaya Harad Terminalia chebula, thus processed, every day, cures
Wrinkling of the skin and greying of hair (process of ageing), and
Promotes complexion, longevity as well as strength
It also cures
5 varieties of Kasa,
Kshaya—Consumption
Shvasa – Asthma,
Hikka – Hiccup,
Visama Jvara – fever (irregular fever),
Arshas – Piles,
Grahani – Malabsorption syndrome, Irritable Bowel Syndrome (sprue syndrome),
Hrud roga – heart diseases,
Aruchi – anorexia and
Pinasa – chronic rhinitis
This excellent rejuvenating recipe propounded by the sage Agastya is auspicious.
Doctors also prescribe this for the treatment of
Repeated infection in children associated with ear, nose and throat infection. For this, usually half a teaspoon once or twice a day along with a teaspoon of honey is prescribed for a period of 1 – 2 months time.
Is Agastyarasayanam useful in hair growth?
No. It is not a product meant to improve hair quality or quantity.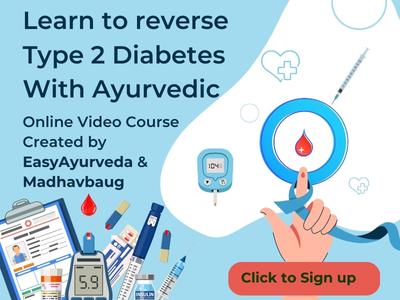 Storage:
Store in a cool dry place, away from sunlight.
Keep out of reach and sight of children.
Manufacturers:
Kottakkal Arya Vaidya Sala, Alva Pharmacy, AVP, AVN,
Nagarjuna – Agasthya Rasaayanam
With inhaler
I suffer from asthma and take steroid inhalers. But my mother always gives me Agastya Rasayana whenever I get cold or cough. I find this medicine very effective. Do you think I could take a prolonged course of this and slowly come off the steroid inhalers? Has anyone done this before in your experience?
Yes, this medicine can be taken for a longer period only under the supervision of an Ayurvedic practitioner. Agastya rasayana, if taken for longer duration, acts as a respiratory tonic and it reduces the severity and frequency of asthma attacks.
And in the question, there is a query regarding stoppage of steroid inhalers after the prolonged intake of Agastya Rasayana. This medicine alone might not enable you for that. But it is very effective in reducing the symptoms and intensity of asthma attacks. So, with a good Ayurvedic treatment protocol, you can certainly reduce the frequency of steroid inhalers over a period of 1 – 2 months. Please do consult an Ayurveda doctor in person.
Research
A research study has been conducted on Agastya haritaki to evaluate its therapeutic actions.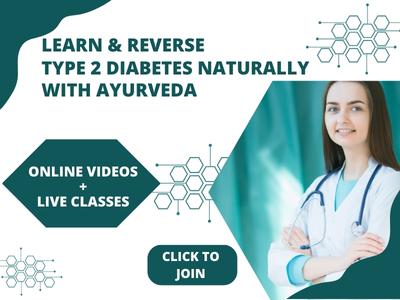 Poudel S, Pradeep , Yadav MP, Agastya Haritaki Rasayana: A Critical Review, Journal of Drug Delivery and Therapeutics. 2019; 9(1-s):486-491