Hello!
I herewith announce publishing of my new ebook – 100 Q and A with Dr JV Hebbar Volume III
It contains answers to 100 questions that keen learners of Ayurveda asked.
If you buy this ebook, you will get my 1 hour online class video + ebook for free. – Learn about the online class here
Features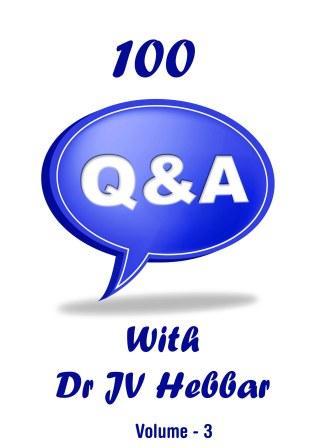 The topics vary from health, lifestyle, relationship, Ayurvedic medicines and home remedies.
At the end of each answer, I have placed the link to each article.
For example, if the question is regarding Aloe vera, then you can read the answer related to the question and if you are further interested, you can click on the Aloe vera article link and read more about aloe vera.
Example questions
Here are a few questions that I have answered in this ebook:
Can warm nature people also use triphala? because triphala is hot nature.
Can Brahmi powder be given to infants? What is the dose as per age?
Can I drink milk and take cow urine at the same time?
I was reading that Ayurveda does not recommend sea salt? Is it true, if yes why? Some other types of salt? Rock salt?
Can a hypertensive patient take rock salt (Saindhava Lavana)
Can you tell about the limitations of the kashayam tablets please.
How important is sukha (happiness) for weight gain?
Can virechana therapy increase handsomeness. can I see change at the end of the therapy
Which sesame seed is better? White or black?
For Type 1 diabetes what is the use of Ksheerabala Thaila?
How neem oil capsule is useful in cold and cough?
Can we mix coconut oil and rose water or rose petals and apply it on skin?
Benefits

It will enable you to touch wide range of topics in a very small period of time.
It will help you to understand what goes in the mind of a doctor while deciding medicine, dose and time duration.
It will enrich your knowledge about Ayurveda, medicines and home remedies.
Price, Payment links
Pay from within India using credit card / atm card / net banking / cash card etc:
-> Click here to buy this ebook from within India <-
Pay from outside India using credit card or paypal:

Where to buy the Volume 1 and 2 of q and a ebooks?
Click here buy volume 1
Click here to buy volume 2  
Buy this along with 9 other e-books for a huge discount