By Dr Renita D'Souza
Patchouli is an aromatic herb indicated in skin diseases, wounds, blood disorders, poisoning etc.
Patchouli essential oil is used in cosmetics products, perfumes, medicines, aromatherapy etc . It possess anti inflammatory, anti fungal, antibacterial, anti depressant etc property.
Botanical Name – Pogostemon cablin
Family – Lamiaceae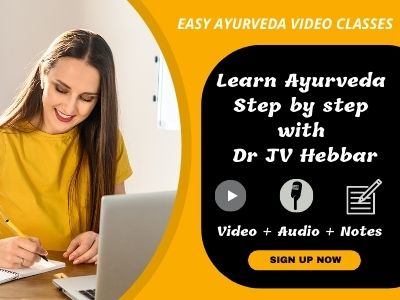 Verncaular, Qualities, Uses
Vernacular Names
Hindi Name – Pacholi
Bengali Name – Patchouli
Gujarathi Name – Sughandipaanadi
Common Name – Patchouli
Medicinal Qualities
Rasa (taste) – Tuvara (astringent), Tiktha (bitter)
Virya (potency) – Sheetha (cold)
Guna (qualities) – Laghu (light to digest)
Karma (action) – Varnakreth (improves skin complexion)
Indications of Pachouli:
Visha – toxic condition, poisoning
Vrana – wounds
Kandu – itching Blood disorders
Kushta – Skin diseases like dermatitis, acne
Effect on Doshas Balances Kapha and Pitta dosha.
Part Used Leaves
Oil benefits, Morphology
Patchouli oil benefits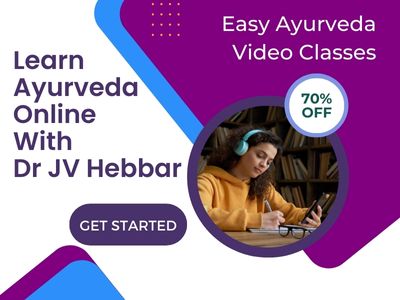 It has potent anti bacterial effect. Patchouli oil is used for the treatment of allergic dermatitis, acne, eczema, dry skin. It has soothing effect over the skin. It is useful to relieve symptoms of cold, cough and headache. It balances Vata and Pitta Doshas.
Patchouli oil is useful to relieve stress and anxiety. It is used as an additive in low doses as flavouring agent in bakery items, sweets and drinks. It is useful to elevate mood and to relieve depression.
Morphology of Pogostemon cablin
Patchouli is an aromatic herb. Its flowers are violet in color similar to the that of holy basil. Leaves are ovate 2- 10 cm long.
Sanskrit verse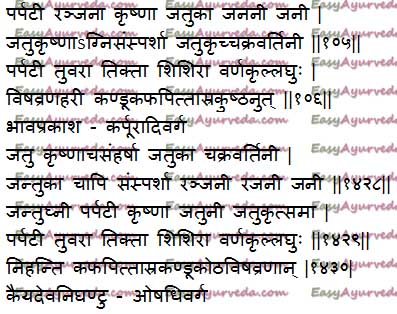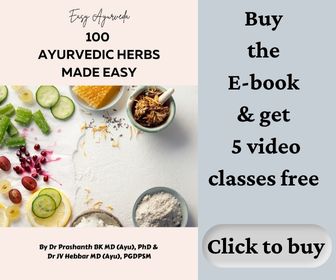 Interaction with medicines, supplements
Can this be used while taking Homeopathic medicine?
Yes. This product does not react with homeopathic medicine.
Can this medicine be continued while taking supplements like multivitamin tablets, Omega 3 fatty acids etc?
Yes. Generally, this product goes well with most of the dietary supplements. However, if you are taking more than one product per day, please consult your doctor for an opinion.
With western medicines
Seek your doctor's advice if you are taking this product along with other western (allopathic / modern) medicines. Some Ayurvedic herbs can interact with modern medicine.
If both Ayurvedic and allopathic medicines are advised together, then it is best to take Allopathic medicine first, wait for 30 minutes and then take the Ayurvedic medicine.
Distribution, chemistry, research
Distribution Found in South East Asia, Africa, Australia, India
Chemical Composition of Pogostemon cablin
Leaves yield essential oil. Oil contains Patchoulol, Patchoulene, Guaiene, Caryophyllene, Norpatchoulenol, Seychellene, and Pogostol.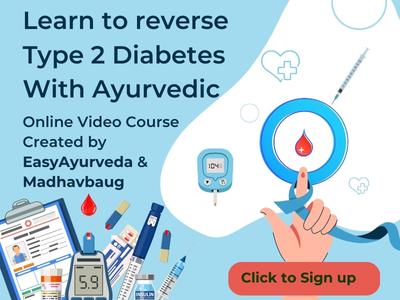 Research points
Antibacterial Activity of Patchouli Oil – The study proved the significant antimicrobial effects of patchouli oil.
Medicines, categorization, synonyms
Ayurvedic Medicines with Pacholi Ingredient
Hairvit Oil – Used in hairloss, premajure greying of hair, dandruff, itchy and scaly scalp. It strengthens hair roots and prevents excessive hair loss by enhancing proper blood circulation to the scalp.
Classical Categorisation Bhavaprakasha Nighantu – Karpuradi varga Kaiyadeva Nighantu – Aushadi Varga
Sanskrit Synonyms of Patchouli
Parpati, Ranjana Kreshna, Jathuka Janani,
Jani Jathukreshna, Agnisamsparsha, Jathukreth Chakravarthini