Padmaka- Prunus cerasoides, is an Ayurvedic herb used for the treatment of skin diseases, increasing the complexion and used as uterine tonic. It is also known as Wild Himalayan Cherry.
Latin Name- Prunus puddum Roxb. (Prunus cerasoides Don.)
Family- Rosaceae (Taruni Kula)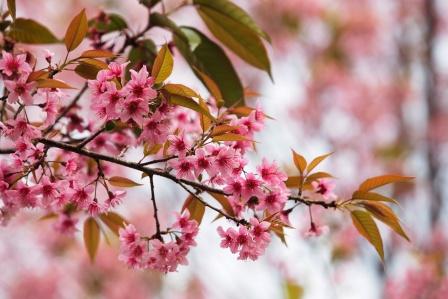 Padmaka is a medium to a tall growing tree growing naturally in the Himalayan belt of India at an altitude of 5000-8000 feet. The trunk is pale reddish with nodules and smells resembling that of lotus. The flowers are white or pinkish in color.
Vernacular names
Names in different languages:
Hindi Name- Padmakh, Padmak
English Name- Bird Cherry, Wild Himalayan Cherry, Sour cherry
Telugu Name- Padma Kashtam
Malayalam Name- Padimukham
Gujarati Name- Padmakashta
Khumayun Name- Payiyan
Bengali Name- Padam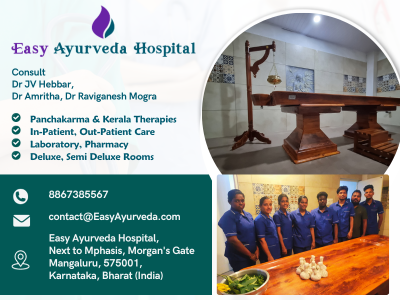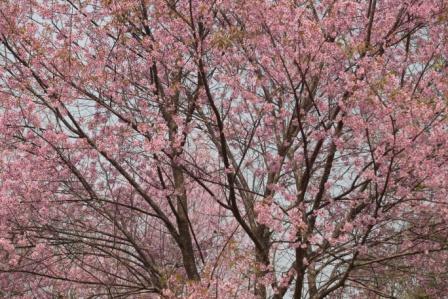 Sanskrit synonyms
Padmaka- Similar to lotus flower
Padmagandhi- Smelling like lotus
Suprabha, Vimala, Charu – the tree is very attractive to look at.
Padmakashta, Padmavarna, Maruchitra, Marudbhava
Peetarakta, Hemavarnaka, – reddish yellow / golden colour
Patala Pshpavarnaka
Sitavirya – Padmaka has cold in potency
Hima padmaka – Grows in Himalayan region
Malaya – grows in Himalayan regions
Classical categorization
Charaka-
Vedanasthapana mahakashaya (Group of herbs useful in relieving pain),
Kashaya skanda (astringent tasting group of herbs)
Sushruta- Sarivadi gana,Chandanadi gana
Bhavaprakasha- Karpooradi varga
Dhanwantari Nighantu- Chandanadi varga
Kaiyyadeva Nighantu- Oushadi varga
Raja Nighantu- Chandanadi varga
Properties, part used, dosage
Padmaka medicina Properties
Rasa (taste) – Kashaya (astringent), Tikta – bitter
Guna (qualities) – Laghu – light to digest, Snigdha – unctuous, oily
Vipaka- Katu – Undergoes pungent taste conversion after digestion
Veerya – Sheeta – Coolant
Karma- Kapha- Pittahara, (Reduces the increased Kapha and Pitta dosha)
Garbhasthapana (helps in conception by preparing the uterus)
Pharmacological actions – Anti bacterial, Anti microbial, Anti inflammatory
Part used- Stem bark, Seeds
Dosage– Heartwood powder 1-3 g
Decoction- 40-50 ml in divided dose
Sanskrit verse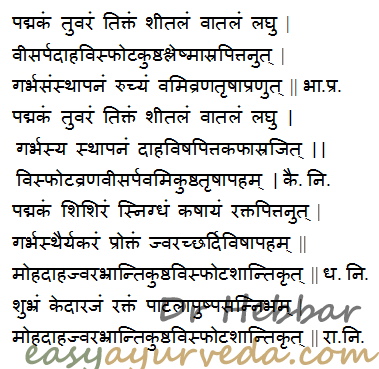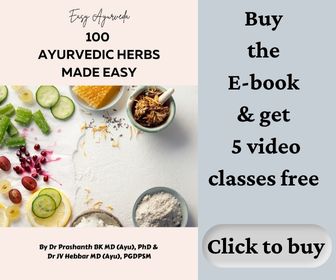 Chemical composition
Chemical composition of Prunus cerasoides:
The plant contains a flavone glycoside – puddumin-A. The bark of the root contains bita-sitosterol, stigmasterol, ursolic acid, prunetinoside, glucogenkwanin and neosakuranin. Seeds contain flavonoid glycosides. The leaves, twigs, bark and kernels contain a cyanogenetic substance.
Uses, indications
Ayurvedic uses and indications:
Visarpa – herpes
Daha – burning sensation, as in gastritis, neuropathy, burning sensation in eyes etc
Visphota – boils, blisters
Kushta – skin diseases
Asra – blood disorders such as abscess, skin disorders, bleeding disorders such as menorrhagia, nasal bleeding etc.
Visha – Toxic conditions, poisoning
Trushna – excessive thirst
Raktapitta –Bleeding disorders such as nasal bleeding, heavy periods, etc
Jwara – fever
Chardi – Vomiting
Moha – dizziness, delusion
Bhranti – dizziness, insanity
Garbha Samsthapana – protects pregnancy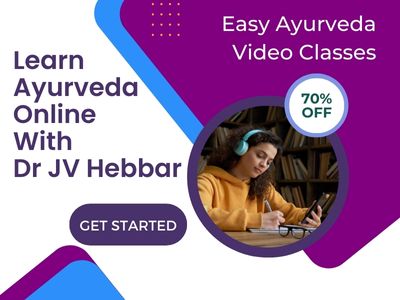 The powder of the plant Padmaka is applied in the form of paste in the treatment of skin diseases, to improve the complexion of skin, to treat herpes.
The heartwood of the plant Prunus puddum is used to treat vomiting, nausea and gastritis. The powder is given in dosage of 3-5 g.
The dried powder of the seed of Prunus puddum is given in dosage of 3-5 g to treat renal stones.
The decoction of Padmaka is given in a divided dose of 40-50 ml per day to treat bleeding per vagina, weakness of the uterus and to prepare the uterus for conceiving the foetus.
The bark or the heartwood of Padmaka is added to boiling water. The boiled water is given to patients suffering from excessive sweating, burning sensation of the whole body and to treat fever.
Ayurvedic formulations
Important formulations containing Padmaka:
Chandanadi taila- It is an Ayurvedic oil used to treat burning sensation, dizziness, nasal bleeding.
Mahabringaraj oil– An ayurvedic oil which is used to treat hair fall, headache, pain and stiffness of neck.
Jatyadi Oil- It is an ayurvedic oil preparation which is beneficial in the treatment of wounds, ulcers. This formulation is used for external purposes.
Triphaladi oil- It is an ayurvedic oil used for external application to treat hair fall, sinusitis, neck pain.
Stanyajanana rasayana- It is an ayurvedic formulation in the form of confectionery to benefit lactating mothers for increasing the breast milk, immunity and body strength.
Bala oil-  It is an oil to treat Vata diseases,vomiting, cough, cold, asthma, wound, emaciation etc. The oil is used both externally and internally.
Grahanimihira oil-  Ayurvedic oil used in the treatment of diarrhea, fever, cough, etc. This oil is used both for external and internal administration.
Research, Side effects
Research articles related to Prunus paddum:
Wound healing property- The ointment prepared from the plant Prunus paddum showed wound healing action in the human population.
Side effects:
There are no known side effects with this herb.
Interaction with medicines, supplements
Can this be used while taking Homeopathic medicine?
Yes. This product does not react with homeopathic medicine.
Can this medicine be continued while taking supplements like multivitamin tablets, Omega 3 fatty acids etc?
Yes. Generally, this product goes well with most dietary supplements. However, if you are taking more than one product per day, please consult your doctor for an opinion.
With western medicines
Seek your doctor's advice if you are taking this product along with other western (allopathic / modern) medicines. Some Ayurvedic herbs can interact with modern medicine.
If both Ayurvedic and allopathic medicines are advised together, then it is best to take Allopathic medicine first, wait for 30 minutes and then take the Ayurvedic medicine.
Author:
Dr.B.K.Prashanth M.D (Ayu), Ph.D. Email: E mail: [email protected]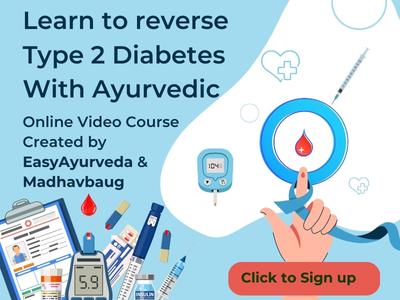 Morphology
Habit – Tree with pale red wood
Bark – Smooth, brown in colour
Leaves – Simple, alternate, acuminate, one or more glands on the petiole
Flowers – White, pink or crimson coloured
Fruits – Ovoid or globose, drupes yellow or red seeds ovoid
Utpathi Sthana (Distribution)
Himalayan regions – Kashmir, Sikkim, Bhutan
Sthanika Karma (Systemic Action)
External Application – Imparts complexion, Reduces itching and burning sensation
, indicated in skin diseases,
Internal administration-
Nervous System – Bark is indicated in various painful conditions related to nervous system
Digestive System – Being Kashaya in taste acts as absorbent, and indicated in vomiting, thirst etc.
Circulatory System – Styptic . Being Kashaya in taste it has pitta reducing property. indicated in bleeding disorders, kaphapitta type of hridroga
Excretory System – its seed has diuretic action. Seed pulp is indicated in Urinary calculi
Reproductive system – It has cold in potency and Astringent in taste, so it acts as garbha sthapana (Helps to retain pregnancy). indicated in threatened abortion, uterine weakness etc.
Satmikarana – Anti poisonous
Tvak (Skin) – Indicated in skin diseases, over sweating conditions
Tapakrama – Reduce fever, Helps to remove metabolic wastes
Controversy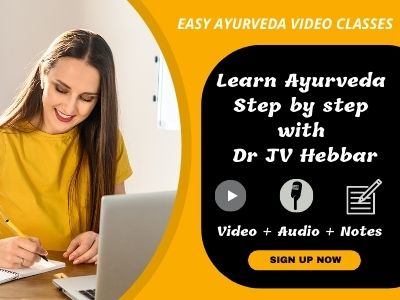 Padmaka is interpreted as Padma prapaundarika. It is also considered as Elavaluka. So far Padmaka is universally accepted as Prunus cerasoides.